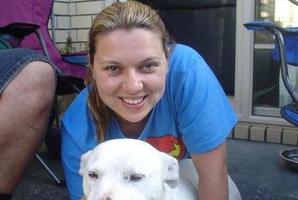 Christine Main seemed a fit and healthy woman when she had a serious stroke at the age of 32.
But as she worked to get movement back in her paralysed left side, it was discovered the Aucklander had advanced cancer in the lining of her lungs.
Lung cancer is the most prevalent cancer killer in New Zealand, causing about 1500 deaths each year.
Christine succumbed to the disease in Auckland Hospital on Wednesday, 14 months after the stroke which led to her cancer diagnosis.
Her father, Don Main, said the elder of his two daughters was "a little fighter" to the end. She had already gained back most of the movement in her left side.
"There's heaps of stories I could tell you about my flamboyant little daughter."
Christine - who smoked cigarettes but had given up before her health problems - appeared on the reality TV show The Big Experiment spending a day as if she was blind, Main said.
She learned to use a white cane and spoke to a blind person about what to expect.
His daughter worked in recruitment but also did some acting, appearing in a TV ad for The Rock radio station.
"She was sitting on a sofa nice and pretty and a boy puts his arm around her, but it's just to get the remote to turn on the radio. For a little while, that was the only way I used to see my daughter so I'd wave at her on the TV."
His daughter's vibrant personality meant she made friends easily, and they had rallied around her, he said.
"She's got such an entourage and they were sleeping in the halls of the hospital, they were all there. It's just amazing."
Christine was farewelled by friends and family at a "going away party" in Northcote yesterday.