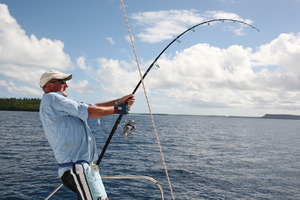 The Manukau Harbour is producing some of the best snapper fishing at the moment, and the top story involves a pair of South Auckland fishermen who launched their boat at Weymouth and were fishing for snapper within 15 minutes' run from the ramp.
They caught their limits of snapper, including one weighing 10kg. Veteran South Auckland fishing expert John Moran said "the Manukau is on fire with plenty of very nice-sized snapper in abundance. Fish from 2.5kg to 5.5kg are common, with some far larger specimens being caught.
"The hot spots have been the areas off the airport in about 3m and the deeper parts of the Papakura Channel between the No red tripod all the way to No10. Gurnard have made an early appearance, which is strange as the water is still quite warm at 18C. Mullet is the hot bait."
Kingfish are providing the other hot action, with fish being caught around Auckland and off the Coromandel Peninsula. Catching live bait is the biggest problem, and it is worth investing time with berley and small hooks to get a bait tank full of small kahawai, yellowtail and piper.
Snapper fishing on the east coast continues to be patchy, with the best results out wide. Bait schools and kahawai action can be found, but they don't always hold snapper underneath the surface activity. The Sargent Channel is one area that has fished consistently, but there is a high proportion of small snapper.
The best reports come from places such as Channel Island and Cuvier Island, where straylining for big snapper in close and jigging for kingfish on the deep pins has been excellent. Similar results have been experienced at the Mercury group.
Bite times
Today, 1am and 1.25pm; tomorrow, 1.55am and 2.30pm. These are based on the moon phase and position, not tides, so apply to the whole country.
Tip of the week
It is worth spending time catching fresh bait such as yellowtails and piper. These can be fished live on a ledger rig with a three-way swivel which allows the bait to swim around the backbone without tangling.
More fishing action can be found on Rheem Outdoors with Geoff, 6.30am Saturdays on TV3.