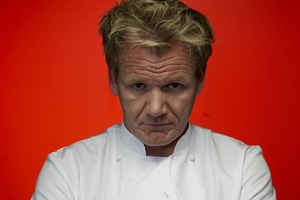 It wasn't exactly a hellish grilling - but a group of New Zealand school students have come through an inspection of their cooking skills by celebrity chef Gordon Ramsay with flying colours.
Ramsay, briefly in New Zealand to speak at a 'Dinner with Gordon Ramsay' event at Auckland's Vodafone Events Centre tonight, made a visit to Papakura High School in South Auckland this morning.
After being welcomed by with a Powhiri, the chef was taken through the school's kitchen, where a group of students were busy prepping food for a wedding tomorrow.
Ramsay stopped by the work bench of Hinerangi Isaac and Stevie-Ray Tekawa, both 17, and quizzed them about how they would prepare and dress their bok choy, and whether the crème brulee would contain fresh vanilla (it would).
After the famously foul-mouthed chef had moved on to quiz other students, the two admitted their hearts had been pounding during the questioning.
Hinerangi said she was speechless, but had adopted a simple tactic to cope with the pressure of the Michelen-starred chef's shadow: "I just stopped cutting".
She was a fan of Ramsay's television shows, which include Hell's Kitchen, F-Word, MasterChef US, and was considering a post-school career as a pastry chef.
"He's not what everybody expects, how he's always swearing, he's not like that today."
Principal Peter Heron said to have Ramsay come to the school was a huge self-esteem boost for the students. He wasn't worried about them copping a spray, either.
"They are doing very well, they are used to working under high pressure, they do a lot of functions already."
Tonight's dinner, sponsored by appliance supplier Beko, will help raise money for The Rising Foundation, and many of the children at the school today were involved in the foundation's programme, which aims to assist at-risk youth through school and beyond.
Foundation chairman John Bongard said the school visit, attended by children belonging to the Foundation programme from Papakura High School, Pukekohe High School and Sir Edmund Hillary Collegiate, was a "phenomenal gesture".
"There is nothing in his contract that says he has to do this...there are plenty of excited kids and teachers who can't wait to meet him."