Grant Allen has a cooking lesson with two stars of the restaurant world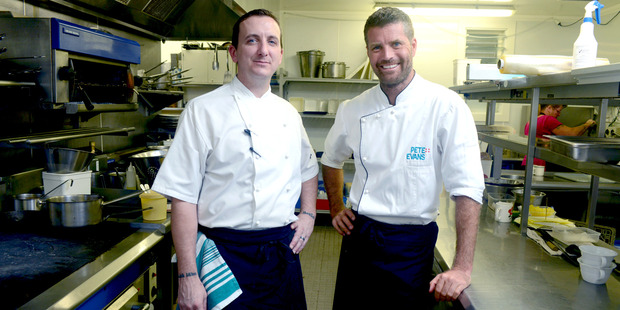 It may be more usual to arrive at The Lodge, Kauri Cliffs, by helicopter but I drove, with mounting anticipation, to Matauri Bay in Northland.
From Matauri Bay Rd, you turn into the Kauri Cliffs driveway, past some impressive-looking cattle, until you reach the gates. You are admitted, to drive slowly, to the main lodge building which sits snugly into the landscape.
Claire Robertson, wife of managing director Jay Robertson, greets me warmly and shows me around. She is a little anxious waiting for the pick-up call for her stars, who have flown from Sydney to Auckland, then by small plane to Kerikeri. They are expected for drinks around 6pm.
I inwardly sigh as I enter the lodge. It is beautiful, but nothing is flashy or ostentatious.
From the stunning polished wood and concrete floors upwards, everything is supremely tasteful. Claire Robertson takes me on to the balcony where the view sweeps across a world class golf course out to the sea.
A fleet of golf carts are at your disposal to move around the course, visit the property's three private beaches or take your luggage to your room. The little humming vehicles are constantly on the move.
My suite is private and quietly luxurious, spacious and comforting in the soft browns and creams of natural materials and textures. One feels immediately at home.
After taking a few pictures to skite on Facebook, I join the other guests for pre-dinner drinks at the lodge and am relieved to see that the boys have made it in time.

Despite their long journey, Pete Evans and Gavin Baker are both fresh and personable, mingling and chatting with guests and posing for photos.
Tonight's dinner is cooked by lodge chefs Dale Gartland and Barry Frith and, naturally, it tastes as good as it looks. Most of us opt for a reasonably early night as tomorrow is a big day, starting with a morning demonstration and talk about Evans and Baker's favourite food things.
Evans is studying nutrition and runs an organic wholefoods shop, so shared his thoughts about balanced eating, using spices as food source and flavour enhancers. But Baker is a meat man who loves animal fats.
Both extol the judicious use and nutrtional benefits of fats, butters and salt in our diets. I can't wait to try Baker's method for rendering down fat infused with aromatic garlic, rosemary and citrus zest and mixed with butter to use for cooking or to melt over meats.
Evans is open and happy to talk about his personal development from being the shyest boy at school to a man with an international television profile, at ease in front of crowds and cameras.
As a restaurateur and consultant he now joins forces with others to open restaurants.
Enter Baker, who is all Southern Carolinian charm, with a dry wit.
The pair worked together in the US and hit it off. Each obviously has a great respect for the other's talents and successes. The pair's Melbourne restaurant, Little Hunter has a limited menu with a focus on close relationships with their seven meat suppliers.
Tonight's signature dinner showcases their approach.
Baker takes the lead in the kitchen and Evans becomes part of the brigade. Working hands on with the lodge chefs, Baker tastes his six-hour reduction and shares teaspoons with Baker to affirm its balance. He is hard to pull out of the kitchen for a few photos but eventually we get him and Evans to ham it up for our photographer.
The dinner is accompanied by Tim and Judy Finn's award-winning Neudorf wines, and the Finns join Baker and Evans as hosts for the evening, talking us through the dishes and wine matches.
There is a happy atmosphere in the room as guests chat like old friends and buzz with the pleasures of the day. My favourite dishes are beef on toast and the goat's cheese and watermelon salad, which Baker is happy to share. I have modified his methods so that you can cook these at home.
Naturally, I drive away the next morning feeling special. I have met two of the food world's good guys and been cosseted by our generous hosts and their staff. A most memorable weekend.


Recipes:
• Beef on toast
• Chicken liver pate
• Watermelon salad


More luxury weekends
• Kauri Cliffs hosts the Dom Perignon Dinner on June 1 with a five-course dinner paired with sublime champagnes, including the 1996 Oenotheque 1996, hosted by Dom Perignon wine ambassador, David Warring.
• Dry River Wines and Felton Road wines host a Pinot Noir Dinner on August 17 and on July 27 is Neil Perry's Italian dinner with favourite dishes from his new Melbourne restaurant, Rosetta, beautifully matched to Italian wines.
• A special wine dinner with Bell Hill Winery is slated for September 7.
• At Cape Kidnappers you can join Nic Poeleart from Brooks of Melbourne for a Bastille Dinner on July 13. Rick Stein returns to The Farm at Cape Kidnappers on August 22-24 for an Indian cuisine dinner paired with wines from Craggy Range, complete with stories from Rick's travels in India.