24 hours of bliss in a Whitford retreat gives Bronwyn Sell an idea of how relaxing a spa visit can be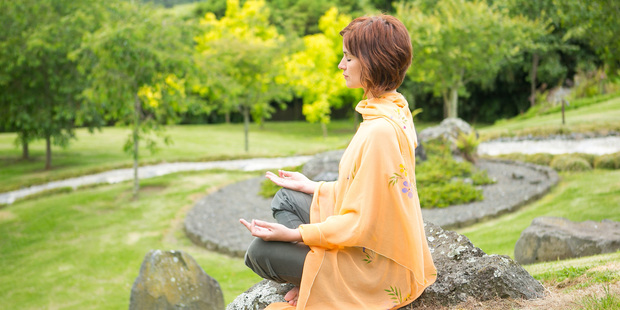 In its pre-visit briefing, the Solace Wellness Retreat discourages guests from bringing alcohol, caffeine, newspapers and snacks, and advises that phones should remain in your room.
I'm only too delighted to ditch the phone. Wine, caffeine and newspapers I can live without for a day or two. With a Michelin chef in the retreat's kitchen, I can probably survive without emergency chocolate. But when I saw laptop computers on the list of banned substances, my first thought was: Surely there's a way around that?
My second thought was: What am I thinking? It's a retreat! What's the point of retreating from the world to regather if it's all sitting there in front of you on a 10-inch screen?
So, sans laptop, I drop the kids at school and preschool one still, autumn morning, and have an easy run down to rural Whitford to the Zen Garden, the pretty, oriental-themed estate that hosts Solace once a month (and weddings and private functions the rest of the year).
I had never been on a retreat - I had always been too busy and stressed. Go figure. But if I'd created one in my imagination, the setting would look something like the Zen Garden: eight rolling hectares of lawns, gardens, ponds, sculptures, native forest, fantails and striking buildings created in ancient and modern Japanese style, all with magnificent views over the harbour towards Rangitoto.
The estate was created by Auckland retailer Kevyn Male and is now owned and operated by a Hong Kong Chinese family who have incorporated Chinese philosophies into the design.
So zen plus feng shui plus 24 hours away from the kids? You just can't help but feel relaxed - wine or no wine.
This new retreat was developed by event planner and choreographer Natasha Stewart after she found relief in natural therapies following her diagnosis of Crohn's Disease. It focuses on mind, body and soul, and rebalancing life - so think massage, life coaching and yoga, rather than facials, mud wraps and champagne.
"It's about taking some time out and having a personal warrant of fitness," she says, "It's not about waiting for the car to blow up."
Upon arrival, my car (the literal one, not the metaphorical) is deservedly spirited away and hidden from view lest it should pollute the serenity. My bags are taken to a beautiful suite - built in the style of the Japanese Tokugawa Period, apparently - and I'm ushered into the massage room. Yep, tough assignment.
The therapist, Karen Brown, comments on how little tension I'm carrying in my shoulders. Really? It must have slipped away somewhere between the Shrine Gate and the Waikopua Waterfall, via the fresh carrot, beetroot and ginger juice.
After 60 minutes of bliss, it's time for lunch in a gazebo overlooking the Hulu Pond, named after the Chinese word for its gourd-like shape. The sea glitters all the way to Rangitoto, and the wispy clouds and blue sky are reflected in the glass-topped table. Not bad. Getting to like this retreat thing.
What's even better is that this is no mung-bean-and-tofu health retreat. The chef, Philip Reynolds, is of the bonafide Michelin variety, with a passion for healthy food.
This is resolutely a tamarind-cured-snapper-with-tomato-and-ginger-and-palm-sugar retreat. The best kind.
Natasha tailors itineraries according to her guests' needs. Offerings can include a range of treatments, consultations and activities, from meditation, healing and life coaching, to pilates, yoga and dance. Today's retreat is a 24-hour taster of her usual weekend or four-day (oh, if only!) retreats, so we're only dipping into some of what's on offer.
The itinerary this afternoon includes a workshop with life coach and healer Bert McCarthy, a pilates class and a "personal energetic healing" session with Parnell therapist Rhonda Bayliss in a tree house - a little octagonal wooden hut with a huge pine tree growing through the middle of it. Apparently, if it's windy the whole hut rocks with the tree.
By the time Rhonda finishes my treatment with a divine foot massage, the sun is setting over Rangitoto, lighting the sails orange in the harbour below. Which means it's time for dinner - yippee.
Mindful that the retreat is designed as an antidote to over-scheduled lives, Natasha factors in plenty of downtime for guests to enjoy the landscape and views, the enormous spa pool and sauna, and the many inviting reading spots - from benches beside the ponds to the huge open fireplace in the main house, where plush blankets are draped over every chair. So this afternoon I've also had time for a soak in the spa, a catch-up with my book, and conversation with the other retreaters over cups of tea (uncaffeinated, naturally).
One of the other guests is a social-media marketing expert. Just as I'm wondering how she's getting on with the no-technology rule, she pops away to update her Pinterest board. She also sneaks out her phone at dinner to Google the collective name for owls, which has somehow become a talking point. My doing, I think. (It's a "parliament", incidentally, which has to be the most apt collective name ever.)
Dinner begins with chilled butternut squash and ginger soup with Waikanae crab and progresses to free-range chicken, shiitake and soba noodles with gingered bok choy. Chef Philip swears his dishes aren't complicated to make. "Most people don't realise you can eat incredibly healthy without it being difficult." Somebody get this guy a recipe-book deal.
With about a dozen amiable people chatting around the table, a fire blazing in the hearth and the lights of the city twinkling in the distance, I can't help thinking that the only thing missing is wine.
I'm evidently not the only one. Natasha says she once had a head-to-palm moment when one of her guests declared she had a bottle of wine in the car that would go perfectly with Philip's dish.
The morning comes round all too soon, with a 7.15 hot-water-and-lemon drink followed by a meditation and yoga class with Adele Kinghan. My idea of a kid-free retreat doesn't usually involve setting an alarm, but I have to concede it's a pleasant start to the day, even if it seizes up all the muscles that were massaged into happy jelly the day.
After that it's home-made granola, fruit and yoghurt followed by corn fritters with mango salsa, then Natasha leads us off on a brisk walk around the grounds, pointing out the sometimes surprising sculptures - including lions, a bear, a gorilla, giant clenched hands and a huge Native American (who'd given me a hell of a fright when I was walking back to my suite after dinner the previous night, even without wine).
When I reluctantly retrieve my car I do feel happier and more relaxed than when I arrived. If that's what you get from a little over 24 hours, next time I'll just have to try the four-day version. But I might have to smuggle in some emergency chocolate. Don't tell. Anyway, isn't dark chocolate supposed to have health benefits?

RETREAT OPTIONS
Health and wellness
Solace Wellness Retreat operates monthly. Four-day/four night packages start at $2175 per person. The next retreat is a special three-day/three night package at Queen's Birthday weekend (May 31 to June 3). See solacewellnessretreat.com, ph 021 663 555. (The Zen Garden plans to open to the public for a Cherry Blossom Festival in September. Keep an eye on zengarden.co.nz or ph 530 8056.)
Horse riding
If the idea of a health, wellness and beauty brand of retreat makes you fidgety, how about communing with nature through a horse trek? Pakiri Beach Horse Rides offers a range of options, from day rides to a three-day pub-to-pub ride through Leigh and Matakana, to a seven-day coast-to-coast epic. See horseride-nz.co.nz, ph 09 422 6275.
Surf camp
It might be getting a bit chilly for this kind of thing, but harden up, rope in some friends, pull on a thick wetsuit, and learn to surf. Solscape Eco Retreat at Raglan offers a weekend stand-up-and-surf package and a week-long surf camp. A great thing to do with friends or family. See solscape.co.nz, ph 07 825 8268.
Cooking
For a tasty urban retreat, book into a hotel in Auckland and enrol in one of the city's fab cooking schools for the weekend. There are schools offering every kind of cuisine you can dream of. For starters, check out Main Course on Beaumont St, maincourse.co.nz, ph 302 1460, Sachie's Kitchen in Parnell, sachieskitchen.com, ph 302 7680, the Auckland Seafood School at the Auckland Fish Market, afm.co.nz, ph 379 1497, and Milly's Kitchen, millyskitchen.co.nz or ph 0800 200 123.
Couples
Waiwera Thermal Resort and Spa in the north of Auckland offers overnight and weekend getaways for couples, including massage treatments and facials, a private spa, lunches in the private spa lounge, and use of the gym, sauna and steam room, and outdoor pools and slides. There are also family packages, if the idea of a weekend alone with your partner makes you yawn. See waiwera.co.nz, ph 0800 WAIWERA.
Romance writing
Karaveer Writers' Retreat has been operating weekend workshops from a farm in the country near Whangarei for more than 30 years, and has helped launch the careers of several successful authors. Prolific Mills & Boon romance writer Daphne de Jong guides students of all levels through the art and craft of the genre. Keep an eye on karaveer.com for news of upcoming retreats.
Beauty
Is there anything more indulgent than a weekend of pampering? Book into Spa di Vine Day Spa in Waimauku for a half or full day of decadence, and then retreat to Vineyard Cottages, five minutes' drive away, for the night. They also offer Girls Day Out packages for groups. See spadivine.co.nz, ph 09 411 5290.