Is there an aspiring artist at your place? Greig Morgan has just the thing.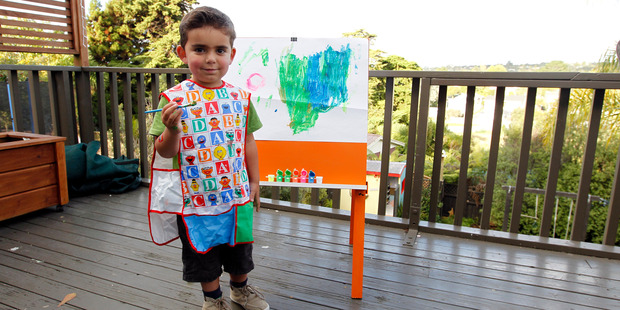 Youngsters love splashing paint around so budding Picassos should have an easel to create those masterpieces. Think of it as an investment. A small outlay now in materials and time and, in a couple of years, you'll be selling their works for a small fortune to art galleries all over the world.

Step 1 - Measure and mark the 40x20mm pine, using a square. Cut four pieces to length on the waste side of the pencil line (I cut mine 1m long).
Step 2 - Measure and cut your sheet of 1200x600mm MDF in half, giving you two 600x600mm boards, one for both sides.
Step 3 - Place the legs flush at either side of the board and flush at the top. Fix three evenly spaced 25mm screws just below the surface.
Step 4 - Measure and cut the shelf to the same width as your back board.
Step 5 - Fix the shelf from the back, on the same side as the leg fixings, and flush to the bottom of the board.
Again, space the screws evenly.
Step 6 - Position and fix the leaf of the hinges to the top of each leg, with the knuckle sitting proud. Use the appropriate screws.
Step 7 - Pencil mark and drill a 5mm hole in the centre of each leg just below the shelf, for the string to go through. Tie a knot at one end and determine the angle of the legs before tying off the length of string.

Materials
• 40x20mm untreated pine (legs)
• 1200 x600mm x 9mm MDF
• 40mm butt hinges (x2) with screws to suit
• 60mm untreated pine (shelf)
• 120grit sandpaper
• 3mm nylon string
• 25mm screws
• Paint
Tools
• Handsaw
• Screw gun
• 5mm drill bit
• Tape measure & pencil
• Square
• Paint brush
Tip
Sand smooth all sharp edges and paint before assembling.