Address:
Elliott Stables, Elliott Street, Auckland
Phone:
(09) 379 2710
elacuisine.co.nz
Rating:
4/5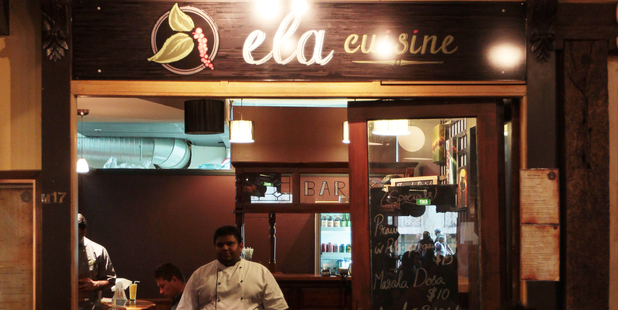 Things must be tough at Smith and Caughey's. The Elliott St facade is looking distinctly grubby and could do with a jolly good waterblasting.
Perhaps it's a sign of the times, which I assume are hard for top-end retail. Goodness knows, the global financial meltdown would have put a dent in the number of people who like to spend $49 on an eggcup or $99 on a bath mat.
Perhaps they just aren't beating a path to the store's door the way they used to.
I did notice that after having resisted for years the use of the word "sale" (S&C had a fair; other stores had sales) they finally caved in. The thin end of the wedge, I thought. Next thing you'll be able to browse online.
This is not, as you may suspect, entirely irrelevant to the matter at hand. The fact is that the grimy facade was what greeted me when I came out of Elliott Stables and it put an (admittedly very small) dampener on my very cheerful mood.
I was feeling cheerful as I always do when I visit that little corner of central Auckland. It reminds me of the lanes of Melbourne or even cities in Europe - particularly when each establishment stations a waiter at the door to try, without a trace of brazen hucksterism, to talk you inside. The place is full of the babble of happy diners and, for long moments when I am there, I can forget what a godforsaken hellhole developers and big-banking interests have made out of the CBD.
The Stables are now home to a dozen eateries - the latest additions are a charcoal grill and a place devoted entirely to desserts - and the four I've tried over the years have all been good (one, the tapas place called El Faro, was excellent).
So was Ela, which deals in the cuisine of Travancore. No, I hadn't either. But it turns out that it was the name once given to a kingdom on the extreme southwestern tip of India, comprising most of modern-day Kerala and the south of Tamil Nadu.
The proprietors and chefs are Johnson Albert and George Banicker George (their Anglo names reflect the Catholic heritage in that part of the country, Johnson tells me). George, a veteran of big hotels in India and Dubai, was more recently in charge in The Wise Cicada, a vegan cafe in Newmarket. But it was the men's wives, longtime friends, who dreamed up the idea of a restaurant based on spices and fresh herbs (Ela means leaf in Malayalam, the predominant language of Kerala).
In short, it's a specific variety of the food of South India, which I've always thought the best kind of Indian food, so I was in my element.
As a concession to those who might be after a nibble with a drink, they offer bread with olive oil and hummus (though it's an Indian-style wholegrain flatbread), wedges with sour cream (a sprinkling of masala) or chicken drumsticks (with little spicy dipping sauces).
But we were ready to plunge straight into the main event. It seemed obligatory to order a biryani, the fried-and-baked rice dish that is actually of Mughal (northern) origin, but common in the south. Buried in the fragrant kaada biryani is a whole quail - fat and juicy, with ample meat for two - and the rice is enlivened with cardamom and cinnamon, as well as raisins and cashews.
The signature fish dish consisted of a decent-size whole snapper that had been baked in banana leaf with a rich spicy sauce in which tomato predominated. The superbly moist flesh fell from the bone and was easy to work into a creamy concoction that went splendidly with basmati rice.
A chicken curry in coconut cream was described on the menu as "a true Kerala dish" and "the Mother of Thai foods". That's not an argument I'm about to buy into - I don't want to start an international incident - but I will say it was milder than the Thai, and lacked the expected coriander, though it was still quite superb.
This place is not as cheap as your local curry house - that quail biryani was $36 and the other dishes are well into the 20s - but the food is thoughtful, original and meticulously prepared. In a part of town where you are spoiled for choice, it will reward your attention.


Verdict: A fresh take on Indian food.