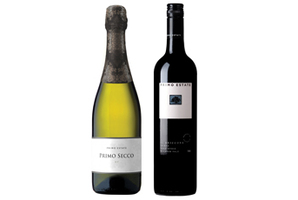 For some reason, a number of Australian wines that were fashionable and readily available a couple of decades ago in New Zealand vanished from our shelves. Now they're making a comeback.
One is the excellent "Joseph", which I remember enjoying on many occasions in the 90s. Apart from being a quality wine, I was attracted to the smart label, which broke all rules by being brown - a colour eschewed by hip, avant-garde advertising creatives, who regarded beige and brown as no-go zones.
I do note that although the colour remains, the label has been reworked and is now two-toned, with a lighter shade of brown added. Either the trendy ad guys have finally come around or I'm far enough behind to be ahead.
Whatever, "Joseph" is back, as is the lower-priced introductory sister label, "Primo". They are very smart wines. If Australian shiraz, cabernets and merlots spin your wheels, then these are worth a look.
Along with new additions, such as Italian varietals nebbiolo and sangiovese, and the French colombard, Primo's portfolio includes a sparkling red (predominantly shiraz), botrytis riesling traminer, pinot grigio and a light, most appealing, prosecco. Extra-virgin and cold-pressed olive oils are also available, and although all labels feature a small distinctive tree, they're not all on brown backgrounds.
The family-owned Primo Estate is the home of Joseph wine and is based in South Australia's McClaren Vale, with the wines often reflecting the family's Italian heritage.
An Italian immigrant and initially a market gardener, Primo Grilli planted his family's first South Australian vineyard in 1973.
Eldest son Joseph made the debut vintage in 1979, saying, "Primo Estate more than anything else celebrates 'la dolce vita' Australian-style."
Richard van Ruth, assistant general manager of Primo Estate, thinks the reason Australian wines have been selling less into New Zealand may well be because "you Kiwis fell in love with pinot noir and so were less inclined to drink our cabernet and shiraz".
He could be right, but regardless, it now seems New Zealanders - at least some of us - are happy and willing to re-engage with our friends across the Tasman and what they have to offer.

Primo Estate Secco NV - $20
Bright, breezy, lively, lovely and most affordable - this wine is the perfect aperitif, made primarily from colombard grapes, with some chardonnay and sauvignon blanc. It has fresh, delicate fruit flavours, with a savoury finish.

2011 Primo Estate "Il Briccone" - $29
"The Rogue", as it is known, is where rich shiraz meets the moreish cherry fruit and savoury finish of sangiovese. The shiraz dominates, with the sangiovese making up about 15 per cent. This is an unusual blend and something of a rule-breaker ... but it works.