Address:
cnr Beach Rd & Castor Bay Rd, Castor Bay, North Shore
Phone:
(09) 410 4488
Rating out of 10:
Food: 8, Service: 7, Value: 8, Ambience: 7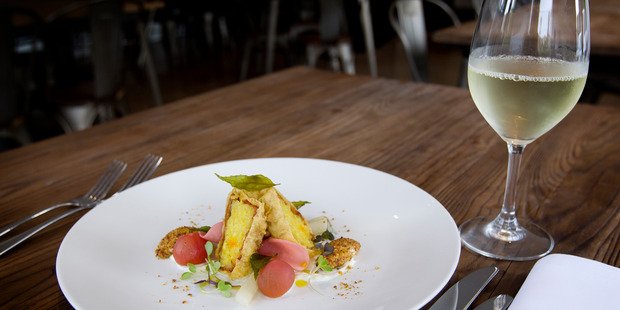 No matter how often small business experts warn of the short life span and high risk of new hospitality businesses, there never seems to be a shortage of candidates to take over established premises.
So it was no great surprise when the building formerly occupied by the Indian restaurant Aroma in quiet Castor Bay was transformed into Salt, though perhaps what was unusual was the nature of the new venture. This is a neighbourhood restaurant and on our visit the early diners included a fair sprinkling of families with children.
It is also a place with ambition, rare on the North Shore where the tried and familiar dominate the eating landscape. Here, for instance, the chicken is offered with pumpkin and ricotta cannelloni, a sweetcorn emulsion and candied pepitas. We are not talking flights of fancy, just a menu that displays some originality and imagination and, as it turned out, the execution matched the concepts.
In keeping with the prevailing trend, there is a range of little plates and entrees and even a children's menu, but there are also substantial main courses, which means plenty of room for choice.
An unexpected sort of amuse bouche of little bread rolls with a pesto and a fish pate was not exactly standard fare for your local eatery.
Lamb meatballs are a regular offering and here they hinted at the quality to be delivered, spiced with some subtlety and in a rich sauce. The seared tuna was just right, with shaved fennel, black olive cream, a basil puree and dainty dots of tomato jelly.
The salmon fishcakes with remoulade and sweet tomato jam were excellent, and the seven-hour braised beef was as succulent as it should be, while the roast black grapes were a nice touch.
We had decided not to stick to the small plates and were glad we tried the mains.
Two of us went for the prawn and panko-crusted hapuku, not always the easiest fish to get right in large chunks, but here our sternest judge of fish cooking announced his satisfaction. Similar verdicts came for the pan-roasted beef fillet with a parmesan polenta, smoked paprika butter and fried capers. Probably the most unusual main course was the lemon feta risotto, stuffed into inari pockets of tofu, fried tempura-style and served with pickled vegetables and yoghurt. This would not usually appeal to me, but my sample mouthfuls, with a strong citrus flavour, were delicious.
The desserts were similarly well judged. The chocolate torte was not outstanding but the cappuccino creme brulee and the passionfruit panna cotta were more than satisfactory, well flavoured and of appropriate consistency.
This very decent food is delivered in simple but comfortable surroundings and in the style you associate with a local restaurant, not impersonally polished but amiable and efficient enough.
Although it is a fairly new arrival, it was obvious that Salt - and its Little Salt annexe - has already picked up an enthusiastic following and we wouldn't hesitate to return, if we can get in.


Our meal: $300 for four first courses, four mains, three desserts and one glass and one bottle of wine of wine.
Wine list: A routine list of mainly New Zealand wines but with other choices and good by the glass.
Verdict: A welcome arrival to the North Shore, providing good food to suit everything from the quick drop-in girls' night out to the relaxed, blow-out occasion.