Herald Rating:
4/5
Address:
177 Sandringham Rd, Sandringham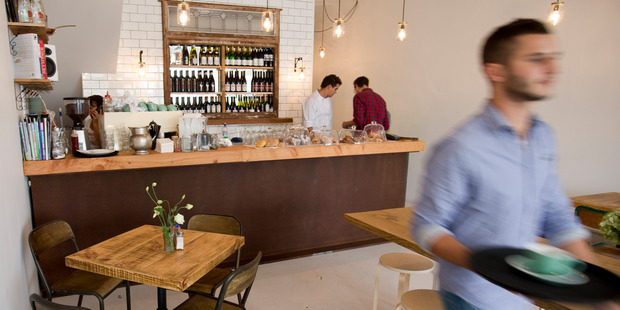 We came here because the owners are also responsible for La Boulange, those lovely little French bakeries across Auckland. Plus, my friend Ginnie had already proclaimed herself a dedicated local within a month of it opening. After brunch, she returned in the evening for bread and dips.
Parking is available on Sandringham Rd or one of the side roads. There were plenty of parks on Ethel St the Thursday we visited.
We walked in and admired the crisp, white interior, elegant counter space and fresh hydrangeas on the tables. The hubbub was the only thing threatening the Parisian vibe. The space seems to amplify the sound of a noisy toddler, of which there were a few that day.
The most unusual thing on the menu is shashi's eggs baked in spicy tomato, roast capsicum and organic puy lentils, ($16); or J.P's marinated sardines with a soft-boiled egg and french baguette soldiers ($12).
We ordered the oyster and portobello mushrooms with a mix of garden herbs and a touch of cream ($14), and the breakfast bruschetta with diced tomato, avocado, red onion and basil with crispy bacon, poached eggs and citrus hollandaise ($17). The mushrooms were delicious, the cream sauce enhancing, rather than drowning the flavour of the oysters, and there was a tasty pesto on the portobellos. The bruschetta was a fresh, attractive alternative to bacon and eggs.
The coffee was the equivalent of a well-poured beer: suitably mood-altering, with a good head.
The service was charming thanks to our polite French waiter, as it was at the counter, where I learned the building previously housed a "light healing" practice - and a dope-grower upstairs.
Overall we thought it's no surprise Petite Bocal is a hit with local mums. Although its location on busy Sandringham Rd means it doesn't have the most glamorous outlook, inside it's clean and classic, as is its food.