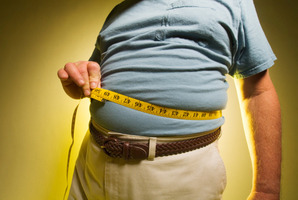 The rapid increase in obesity in South Auckland shows the need for healthy-eating programmes to be re-introduced, a diabetes expert says.
Nationally the adult obesity rate rose to 29 per cent in the Ministry of Health's 2011/12 health survey, up from 26 per cent five years earlier.
But in the Counties Manukau health district, the rate rose from 33 per cent in the 2005/6 health survey to 38 per cent among everyone aged 15 or more. That increase, however, masks a far greater rise among those aged 15 to 24 - from 16 per cent to 30 per cent, nearly a doubling.
The only offsetting decrease was among those aged 65 or older - from 35 per cent to 30 per cent.
Obesity can be a factor in developing diabetes and heart disease.
"The increasing obesity in 15-to-24-year-olds is very alarming," said Dr Brandon Orr-Walker, the clinical head of endocrinology at Middlemore Hospital in South Auckland and the former national clinical director of diabetes at the ministry.
He said that by the time that generation reached middle age and began to suffer the complications of obesity, many of today's policy-makers and politicians would be old or dead but those in power owed it to the young to introduce policies that protected their health, as they did with seat-belts and drink-driving laws.
The Government should not shy away from a similarly protective regulatory environment in nutrition and non-communicable diseases like diabetes, he said.
He urged the reintroduction of the healthy-eating programmes that were discontinued by the National Party on coming to office.
"We have to reflect on what was working well and go back to that."
Underlying Dr Orr-Walker's alarm is that in Counties Manukau, which his hospital serves, the rates of compliance with recommendations on physical activity and fruit and vegetable intake went down between the two surveys and are well below the national rates.
His call to reactivate nutrition programmes, such as Labour's near-ban on sales of unhealthy foods at schools, echoes the comments of Otago University researchers who this month published comparisons showing the average blood pressure of adults aged 35 to 54 had increased since 2002, findings based in part on the ministry's 2011/12 survey.
Health Minister Tony Ryall said the most effective interventions would be in maternal and newborn nutrition "and that is where the funding will be focused".
Read more: Our five-yearly check-up: State of our health