Wines from Waitaki Valley have a sophistication all their own, so why are some of the region's key players calling it quits?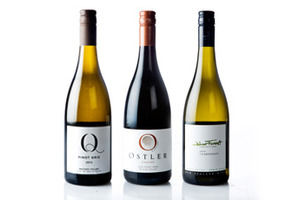 Waitaki Valley's first wine was made a decade ago, and the releases that followed from this new wine region went on to garner considerable critical acclaim. However, Craggy Range withdrew a few years back; the valley's largest player, Pasquale, has just announced it's pulling out and "for sale" signs are scattered through its vineyard area. What's happened to this place that was once so full of promise?
Its potential was initially spotted near simultaneously in the late '90s by late entrepreneur Howard Paterson and Jeff Sinnott of what was to become Ostler Vineyard. They both identified the north-facing limestone-rich hills as possible prime sites for top cool-climate pinot noir.
Coolness is key to the elegant style of wine coming out of the Waitaki, which has also proved itself as a producer of racy riesling, impressive pinot gris, and recent rising star, chardonnay. However, situated at the very edge of viable grape growing, its climate can result in some of the lowest-yielding vines in the country.
It's the weather "that can wipe out a harvest every four or five years" that Pasquale general manager Renzo Mino cited as one of the reasons behind the company's retreat from the region. This was combined with the "cost of growing and hand-harvesting vines ... reflected in the high quality and cost of the wine in bottle" and the region's relatively isolated location on a road less travelled between Oamaru and Omarama.
Steve Harrop was involved with Paterson's Waitaki Valley Estates vineyard subdivision in the region's early days and now has his own Waitaki-based Sublime label. He too considers the costs of farming and establishing grapes in a region with no winegrowing infrastructure to be a major hurdle, however he also thinks timing has played its part in the current troubles.
"We were an infant winegrowing region trying to make as much noise as we could in a pretty difficult time for the wine industry both here in New Zealand and overseas," he observes.
"Then along came the global financial crisis."
"It certainly is not for the faint-hearted, and considerable resources are required," says Ostler's Jim Jerram, who has no plans to up sticks. "We wouldn't be here if we didn't think it worth the effort. Our reputation is building and sales with it, but those who have pioneered in other regions know what effort and doggedness this requires."
Someone fitting that bill is winemaker Grant Taylor, who says he's seen many people come and go during his time in Central Otago as well as in Waitaki, which he attributes to a combination of investors being undercapitalised, involved as financial speculators and overly optimistic, and not understanding the wine industry enough.
"However, it's definitely financially viable and well worth the effort,' he says. "It may be more difficult than anywhere else I've worked, but that's part of the attraction and the resulting wines are so expressive of place."
"None of it is to do with the wines themselves," stresses John Forrest, who made the region's first experimental pinot noir for Paterson in 2003. "From the start I saw the wines were very different to those from anywhere else and expressive of the region's limestone terroir. My initial excitement has been borne out by some years of superb wines."
"The indications are there that it can be a wonderful wine region for certain varieties," says Michelle Richardson of Waitaki Braids. "There have been some wines that you can see real glimpses of something special in, that don't look like anything from any other region."
I agree. And I'm relieved that there remains a hard core of committed winegrowers to ensure we see the continuation of this legacy of exciting and distinctive wines.

Recommended
Q Waitaki Valley Pinot Gris 2012 - $28-$31
This relative newcomer to the region has produced a thrillingly fresh and minerally pinot gris with a supple palate of apple and quince threaded with notes of spice and jasmine florals. (From Caro's, Accent on Wine, Village Winery, Wine Vault, Herne Bay Cellars, Great Little Vineyards, Advintage and qwine.co.nz)
Ostler Caroline's Waitaki Valley Pinot Noir 2010 - $59
Intensity and finesse combine in this silky pinot noir with delicate red cherry fruit, lifted notes of violet and bright minerally acid core. (From Glengarry Victoria Park, Meadowbank Liquor Centre, Point Wines, The Fine Wine Delivery Company, Wine Vault, Wine Circle.)
John Forrest Collection Waitaki Valley Chardonnay 2010 - $50
An elegantly edgy and chalky textured chardonnay with rich notes of butterscotch and nuts counterpoised by a powerful line of taut citrus and mineral. (From The Fine Wine Delivery Company.)
- VIVA