Anna Subritzky takes a trip back in time with the trusty duffel bag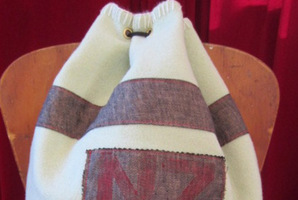 The duffel bag has been reinvented many times throughout the course of history. Twice in my lifetime it has been the bag of choice to have slung over your shoulder.
Back in the 70s there was the local favourite produced by a New Zealand manufacturer, a humble affair, typically in shades of faded forest green, a mustardy yellow or a dark blue with contrasting trim, white piping and metal eyelets.

I most remember the green one, maybe because the neighbour's son had one that he used to wear as he rode up the street on his 10-speed bike.
Then, in the 80s, the TV series Fame followed Leroy and his classmates at the New York City High School for the Performing Arts. They all had duffel bags to carry their sweaty dance clothes. These bags were accompanied by a lot of pouting and door slamming at unsatisfactory auditions, as I recall.
Those bags were not humble. Yet the duffel bag does have humble origins, being a natural extension of the bed-roll, the knapsack or the swag.
Its exact history is a little murky but it appears to have a longstanding relationship with the battlefield and, to this day, it remains standard issue in many armed forces. It seems appropriate to commemorate Anzac Day with this version of the duffel bag, a cross between that well-loved local version and the military style ones with their pragmatic use of stencilling.
As a carry-all they earn their keep. This one is deceptively spacious.

Step 1 - Make a pattern from newspaper. Cut a circle 26cm wide and a rectangle 84.5cm x 46cm, (These include 1.5cm seam.) Pin pattern to fabric (on straight grain) and cut one of each. Prepare lining pieces in similar fashion. Before I sewed the pieces together, I added contrasting material along the base and used fabric paint and a cardboard stamp to add interest.
Step 2 - Fold rectangle in half lengthways with right sides facing; pin and stitch side seam. (Repeat for lining.) Fold base piece in half and again in quarters. Mark with pins. Repeat for lower edge of bag section, using seam as starting point. Right sides facing, pin base to bag section matching pins. Machine sew base to bag. Turn to right side, roll bottom seam, pin and press.
Step 3 - Place lining over bag outer, wrong side to wrong side. Line up side seam and top edge. Pin together along top edge, and then stitch. Trim seam by half. Pull bag outer out of lining and then push lining into outer. Roll top edge, pin and press. Top stitch if desired.
Step 4 - Do a dummy run with the eyelets. Position one eyelet either side of seam at lower edge (where bag meets base) approx. 1.5cm from seam. Repeat at top of bag, aligning with eyelets at the bottom. Evenly space eyelets around remaining top edge (approx. every 7.5cm). Thread chord through eyelets starting at base and tying off on the inside.

Materials/tools
• Material for outer (something sturdy)
• Material for lining (lightweight cotton)
• Sewing machine and thread
• Paper, scissors, ruler for template
• Fabric scissors
• Pins, tape measure
• Eyelet kit (from Spotlight)