Drink it on its own, or as a cocktail, but never with cola, says Don Kavanagh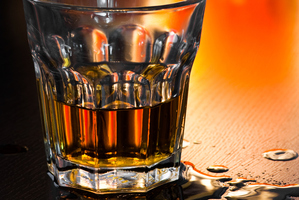 We drink a lot of bourbon in New Zealand, so much so that we actually register on the radars of bourbon distilleries far away in Kentucky.
Sadly, most of it winds up desperately trying to avoid being drowned in a bath of cola or L&P, robbing drinkers of the most important element of bourbon, its taste.
Bourbon is a sweeter style of whiskey, with the corn element of the mash coming through in the finished product and the influence of virgin white oak barrels imparting that characteristic vanilla/caramel/toffee flavour to the spirit.
You can find secondary flavours as well, such as sweet banana, honey, coconut, orange, cinnamon and even pepper, so with such a melting pot of flavour you have to ask yourself why so many people choose to drown it in hyper-flavoured sugar solutions.
For many, it's about the image and bourbon's image mirrors its birthplace. America's image is also bourbon's image: fast cars, endless highways, rock'n'roll, cowboys, Hollywood and wide-open spaces.
That's what the cola-splashers are really reaching for and good luck to them, because they're getting absolutely undiluted Americana with bourbon and Coke. I imagine many of them also own a pair of cowboy boots and/or a model of a Dodge Charger on the mantelpiece. Still, for all the philistines who are unable to say the word bourbon without instinctively adding "and Coke", there are plenty of people who are enjoying the taste of bourbon for its own sake or for its fantastic versatility as a cocktail ingredient, because with bourbon it really is about the taste.
I prefer to drink my bourbon on its own or with a splash of water, but the range of flavours means bourbon also makes great cocktails.
I had a Manhattan recently, made with Eagle Rare, a gorgeous 10-year-old single-barrel bourbon from Buffalo Trace, and it was outstanding.
The thing that makes a Manhattan such a great cocktail is the balance of flavours. Whiskey brings rich, sweet toffee character; the vermouth offers a more herbal element and the bitters brings it all together; smooth, refreshing, complex and rewarding, with the whiskey still distinguishable in the mix.
Everyone has their own favourite bourbon, whether it be the ubiquitous Jim Beam or more niche products such as Buffalo Trace or Four Roses.
I have pretty much always been a Maker's Mark drinker, although that could change after I tried a very rare, but unspeakably beautiful brand at the Whiskey Bar recently.
The George T Stagg barrel-strength bourbon is such a compelling drink that all I could do after tasting it was laugh. It's packed with flavour, as you'd expect from a 70 per cent alcohol spirit, but it wears its strength lightly; there is plenty of power, but there is also a lovely elegance and grace to it that is absolutely charming.
There isn't much of it about (less than 10 bottles for the country) so I'd recommend you try some before I finish it all. Go on, just for a laugh.