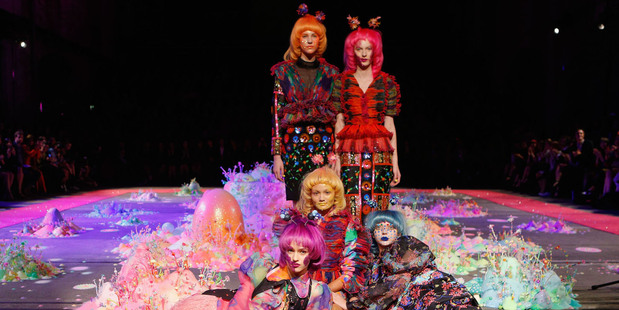 Will anyone remember what was on the runway, or is it what's outside that matters? International websites and blogs thought as much, with plenty of photos of stylish showgoers making their way to and from the venue, wearing their jackets flung casually over their shoulders, statement jumpers and ensembles straight off the runway (like photographer Candice Lake, who wore an electric blue Ginger and Smart suit the day after the show).
Peacocking is what it's been dubbed overseas, with people piling on bright colour, quirky prints and statement accessories to stand out, while old school editors mourn the discreetness of the past, when people wore black and went about their business.
At Mercedes-Benz Fashion Week Australia, swarms of street-style photographers snapped every tall, young, thin girl who walked by, crushing the ego of those they ignored. Tommy Ton, who shoots for Style.com, is the king, the rest taking cues from him. Well, sometimes: one afternoon, around 10 loiter between shows, waiting to shoot; a girl in a tight digital-print peplum dress approaches and several run to her. Ton doesn't move; instead he laughs and his camera stays put.
Later, a photographer asks a woman to walk back up the stairs she just came down to get the shot; she happily obliges. The photographer still isn't happy, her subject walks the stairs a third time. The process was fascinating - it kept me entertained for well over an hour.

AUSTRALIA'S TOP MODEL
People were buzzing over the runway appearances of international models Hanne Gaby Odiele at Ellery and Georgia May Jagger at Camilla, but the real star of the week was Julia Nobis, who opened 13 of the almost 20 shows she appeared in.
MAD PROPS
The trippy centrepiece, made from sugar and sand by artist Pip and Pop at Romance was Born, set the tone for a week of brilliant set design and atmospheric props. Vanishing Elephant had a dramatic backdrop made out of cellophane, models rode the runway on Bondi Beach Cruisers at We Are Handsome, and, at Camilla's fun show in Centennial Park there was a giant teepee tent, an alpaca and a centrepiece overflowing with flowers, vegetables and a cauldron of flames. Yes, sets cost money, but we'd like to see some of this inventiveness in set design at NZFW in September.
THE BUSINESS
According to organisers IMG, nearly 2000 domestic and international delegates attended shows during MBFWA, including top fashion industry figures from Style.com, Vogue China, WhoWhatWear.com and Net-a-Porter, and influential online personalities Susie Bubble, Tommy Ton, Bryan Boy and local blogger talent Nicole Warne. Australia is a strong market for international brands at the moment, drawn to the strong Aussie dollar and the relatively healthy economy. Luxury brands have come in droves to open large flagship stores, while online stores like Net-a-Porter.com and Stylebop.com push into the market - both hosted events during the week. That positivity comes despite a "five-year freefall in revenue for Australia's fashion industry", set to slip a further 1.7 per cent this year, according to a report from market researcher IBISWorld. However, they predicted strong performances for luxury and multi-brand online retailers like asos.com and The Iconic - Australia is the second biggest market outside Britain.
* Zoe Walker was a guest of Destination NSW
- VIVA