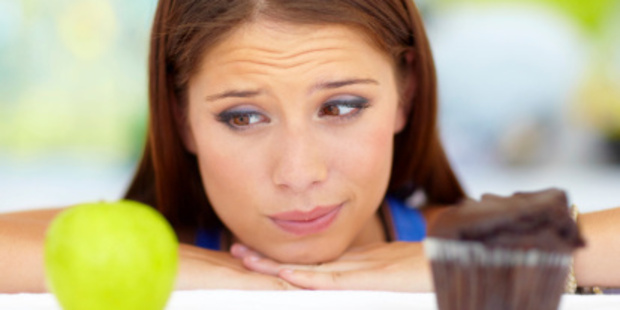 Here's the thing. Our brain is like Google. It's an incredibly efficient search engine.
Whatever question you ask it, it will go off and search high and low and down the back of the sofa cushions in order to give you an answer. It is also kinda lazy: it likes repeating the answers it brings up. Rather than give you new options for the same question, at the top of the search results will usually be the same answer as last time. This becomes the default response and it's how we build habits.
This Google mind search happens in nanoseconds. In the merest blink of the eye.
And not only can our answers be well worn default responses but our questions too. Especially around food.
If you want to lose weight the "intuitive" way I use with my clients, where we learn to work with our body to lose weight rather than by imposing the latest Blueberry Impact Detox diet fad, then you need to start asking better questions.
Yep. It's actually that simple.
If your unconscious question when sitting down for dinner and perusing the menu is "what looks good?" then guess what, your Google mind is going to bring back an answer along the lines of? "The stuffed seabass looks great, and the lobster linguini sounds divine..." Then of course the mental battle begins. The wrestling match between the devil on one shoulder and angel on the other - "well, I should have a salad, there is a chicken one, but, that lobster linguini does sound good, and this is a treat.
We haven't been out for ages. That said, hmmm, the sauce does look creamy.
Maybe I'll have that but definitely no dessert...". and so on. This mental tug-o-war whenever we are hungry is exhausting. It is also, often, fattening.
If, however, you put a different question into your mind at the beginning you will get a different response which will allow you to make different choices minus the inevitable battle. If you scan the menu and mentally ask yourself "What would size 10 me eat on here?" or "what would I feel great about having eaten in two hours time?" or "how can I make a choice that respects the true nutritional needs of my body?" then the answers you get will be completely different. The internal conflict of the dreaded "should" will drop away. The angel and devil within will have no need to compete. You will be on the same side as your intention so the answers to the question are in harmony with your desire to lose weight. As the internal struggle drops away, so will the dress sizes.
Action step
Get a pen and paper and start listing a few new and improved questions you can ask yourself around food and mealtimes that will support you living at your natural body weight. It's easier to prepare these in advance so you can make a conscious choice of what to think at the next meal. Remember that what you put into your mind determines what you put into your body, so get prepared with questions that are in alignment with your natural body weight.

Louise Thompson is a life coach, yoga teacher and corporate escapee. For more from Louise visit positivebalance.co.nz.