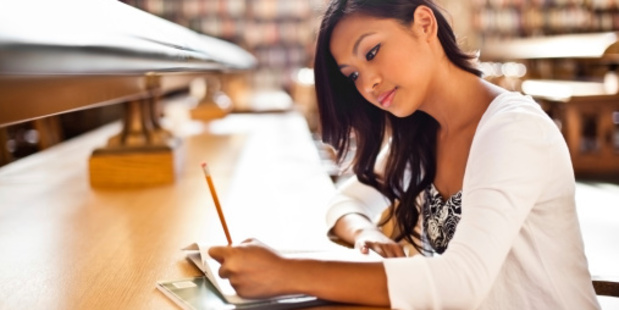 While in Britain last month I stayed with my good friend Sarah and her husband Nick from university days. It was so good to see them, we talked long into the night reminiscing, and howling with laughter about our long-gone student days.
Long-gone that was until the next morning when Sarah calmly dispatched her two children for school and then got her own student bag ready. She had just started on another degree, biomedicine this time. The course had started the previous week, and off she went on her bike to uni. It was a serious case of deja vu. A much more polished and sophisticated student than in our heyday, more Grazia than grunge. I was bowled over with total admiration.
"How the hell can you remember anything? Are they not all running rings around you with their laptops and blue tooth whatnots and tablets and, let's face it, their youth?! I can barely remember to buy milk some days without the use of a Post-it note. How are you going to remember a whole new degree?"
Sarah's answer surprised me. Her fellow students are low-tech learning - in the lecture halls with note pad and pen, old school style. Apparently in a "how to learn" seminar the previous week they had been told that the best way to absorb and actually commit study to memory was to write it down longhand. Studies had shown those who were typing notes into a tablet or laptop had far lower retention. There is something critical in the connection between hand and brain that significantly improves memory and ease of recall. So for success, the strategy is out with the tablets and back in with the humble pen.
So that's my first tip for you this week. Go old-school learning. Park the PC and make notes longhand. You have an increased likelihood of recalling the right facts if you do.
Other old-school study tips:
• Don't worry about the outcome. It's a waste of brain power. Focus on what you can do, study, and on your technique and application in the actual exam itself and let the outcome look after itself.
• Rewards are not just for toddlers. Reward yourself at regular revision intervals to keep up momentum and beat procrastination.
• You are an animal not a machine. You do need to rest. You do need to eat. Factoring in downtime into any revision timetable is essential.
• Breathe. Obviously, but more than that use your breath to calm you down. If you feel yourself getting panicked it will be far harder to recall information. Calm your stress response by taking six slow breaths. Breathe in through your nose deep down to your belly (you should feel your belly push out) and exhale equally slowly through the nose (the belly falls back towards your spine). Count to six on each inhale and each exhale. This will calm you down and oxygenate your blood and brain.
• Whatever the result life will go on. It is not a matter of life and death. It may feel like it but it actually isn't. Exams are one excellent indicator of success in life but they are far from the only one. Famous non-graduates include Sir Richard Branson, Bill Gates and Steve Jobs. Try and keep a sense of perspective, and do your best.
Good luck!

Louise Thompson is a life coach, yoga teacher and corporate escapee. For more from Louise visit positivebalance.co.nz.