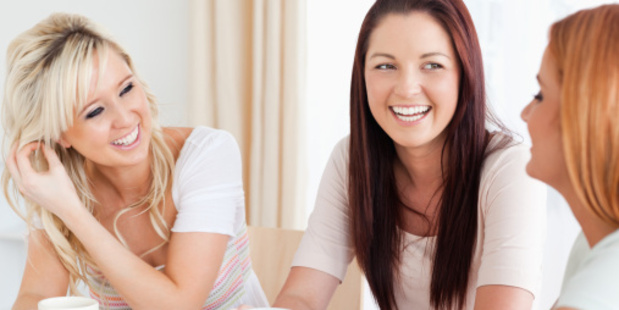 "You would be fantastic at that!" I heard one woman say to another in a cafe last weekend. "You think well on your feet, you are super-organised and you have fantastic presentation skills; it could be the perfect job." The reply? "Oh, well not really, I am sure there are better presenters, and being organised is nothing special".
"Oh" said the complimentary friend, totally deflated, "right".

I hear this sort of exchange often. It seems to me that many Kiwis struggle to accept compliments. Maybe it's a fear thing around the tall poppy syndrome?
That if we agree "yes thank you, I can absolutely rock out a top presentation", we are somehow immodest and big headed. It's a shame. We are missing out on the uncomplicated rosy glow that a well-placed compliment can bring.
Compliments are actually gifts. They are gifts of words that someone else has specially selected for us and gift wrapped and presented to us with a bow on top.
What would you do if someone gave you an actual physical present all wrapped in shiny paper with a ribbon? Would you reject it and tell them they were wrong to have chosen it?

No, that would be rude. You'd say "thank you", right? Why then do we often reject a gift of words in the form of a compliment?
I think it's something many of us need to get better at: giving and receiving compliments with grace.
The easiest way to learn to embrace taking a compliment is to take the focus off yourself and start giving compliments instead. Look around for opportunities to voice a genuine compliment. An ever skilful colleague. A thoughtful partner doing the washing up. A beautifully laid table. A cute new skirt. Opportunities surround us.
Giving compliments is a fantastic and free way to spread a little more joy in the world. I love to give a compliment to a total stranger, it's so unexpected. To say "I love your dress" and to hear a delighted "Oh thank you. It's new" spreads a little ray of happiness.
It costs nothing. You don't need to get into a conversation, just compliment and smile and move on.
Here are a few tips on giving and receiving compliments:
Giving compliments
• Be genuine. Fake compliments defeat the purpose and they are so easy to spot. If you are not authentic in your praise then don't say anything at all.
• Give without expectation of return. Complimenting can be a sly way of manipulating behaviour you want to reinforce. Giving a "clean" compliment is to give the gift of words without expectation of return or outcome. Just say it because it's true. "You are such a thoughtful person, thank you" or "amazing shoes, I love them".
Taking compliments
• Think of the compliment you have just been paid as gift wrapped words. A special present for you to unwrap. Receive it with good grace just as you would a physical gift.
• You don't need to say anything but "thank you" and give a smile. You don't need to reciprocate, just give thanks for the gift.
• False modesty and rejection of the compliment is a joy killer. Don't play it down. Just accept it for what it is rather than finding a whole heap of ways to say why it's isn't true.
Use it as an opportunity to see the good that others see in you. Their perception of your strengths may be truer than your own.
Action step
Give three unsolicited compliments this week either to people you know, or total strangers. Compliments must be genuine and come from a place of authenticity.
Be open to taking compliments in the spirit in which they are given, with a thank you and a smile.

Louise Thompson is a life coach, yoga teacher and corporate escapee. For more from Louise visit positivebalance.co.nz.