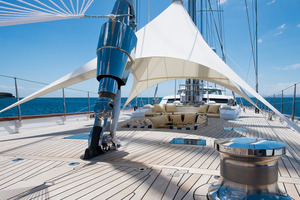 In New Zealand, we've long had a great love of sailing. We've even grown an enviable niche as builders, designers and crew in the super yacht world. But servicing the fussy top end owners and passengers of 50, or 80 metre floating palaces has moved a long way from the happy backpacker-walking-the-docks world of the nineties or early naughties.
The global Professional Yacht Association, based in Antibe, France, knew they needed to move the profession up a notch when they brought on vivacious Englishwoman Joey Meen to create a formal structure for the training and certifying interior crew. Niftily called GUEST (for Guidelines for Unified Excellence Service Training), the new standard combines classroom learning with on-board experience and mentoring.
Meen is in Auckland this month to present the programme through Celia Hay's New Zealand School of Food & Wine. Kiwi instructor Joy Bates, herself a veteran of eight years heading the interior crew of Larry Ellison's luxury Okatan yacht, will run the five day introductory course. GUEST-trained crew are already in high demand on luxury yachts, as demanding owners and captains expect polished and professional crew to step on board and be up to scratch.
Meen is keen to recruit hardworking Kiwis into the industry - in her experience in crew careers, our good humour and hard working ethos is keen sought after.
She'll be presenting a seminar on GUEST and super yacht careers at the New Zealand School of Food & Wine, Level 3 104 Custom St Tuesday April 16, 6pm.
- VIVA