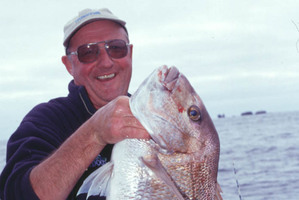 This a great time of year for targeting big snapper, and some specimens have been taken in the Hauraki Gulf, Coromandel and at Great Mercury Island. The far north is a rich hunting ground for big snapper, and the coast all the way from Tutukaka to North Cape always produces good fish.
The approach for targeting these fish remains pretty standard. If fishing from the rocks, you need plenty of berley, strong tackle and big, floating baits. Rock-based anglers are challenged by their circumstances - they can't follow a fish, and if it gets in to weed or rocky areas they can't do much except try to pull the line free, or give the fish slack line hoping it will swim out. The best fishing is found in channels that lead to deep water, and where there is plenty of weed, such as kelp and reefs, which harbour food such as small fish, kina and shellfish.
Tackle should be 15kg breaking strain, preferably heavier, with long, powerful rods which can apply leverage to the fish and lead it away from hazards.
Fishing from a boat is different. Lighter tackle can be used, and some anglers use only 6kg line with matching rods and reels. Berley is essential, and baits such as fillets of fresh mackerel or kahawai, or whole mackerel or piper are favoured.
These have enough weight to cast without a sinker, they will sink slowly through the water column, and they deter small fish. If strong currents are running and water flow is an essential ingredient for snapper fishing, then a small ball sinker can be added.
Successful charter skippers who specialise in this type of fishing have their own tricks, and one which works well is to catch a maomao or trevally, remove the filler from one side, and rig it with one 7/0 hook through one side and the other in the head which fixes it firmly for casting, and a round sinker can be pressed into the eye so the bait and the hooks and sinker are all combined. A free-running sinker can pendulum when the rig is cast, reducing distance.
By catching fresh bait at the fishing scene you are offering the quarry what is available in the area, which is more likely to be accepted than a frozen mackerel imported from Chile.
This type of fishing, which is basically straylining, will often produce snapper of over 9kg, and most people understand that these big fish are old, are good breeders, and it is better to put them back, perhaps after taking a photo, and keeping smaller fish for eating.
Snapper are still coming from the flats above Meola Reef in the Waitemata Harbour but that won't last much longer, and further out the reefs off Waiheke Island, the Noises and the Ahahaas have been producing fish. It is also worth looking for work-ups out in the Hauraki Gulf as fish are moving out into deep water where they will remain for the winter, and there are still concentrations of good-sized snapper in the Firth of Thames. As water temperatures cool the barracouta are expected to show up.
Fishing in shallow water this summer has been consistent and one unusual bait which often works successfully in the shallows is a pilchard cut in half length-ways from one side of the head to the opposite side of the tail, rigged on two hooks, cast well out and "walked" back to the boat slowly. A moving bait usually works better than a stationary one, which of course is the principle behind fishing soft baits and other lures from a drifting boat.
The Manukau Harbour is "running hot and cold" according to local anglers, and surfcasters are catching fish at Hamilton's Gap, where snapper up to 3kg are feeding on small mussels in close.
FreshwaterLike farmers, trout fishermen are waiting for rain. Temperatures are cooling but fresh water is badly needed in streams, rivers and lakes to get fish moving.
Bite times
Bite times today are 2am and 2.20pm, and tomorrow at 2.45am and 3.10pm. These are based on the moon phase and position, not tides, so apply to the whole country.
Tip of the week
For most anglers a spin reel with a bait-feeder mode is the preferred reel for straylining. Overhead reels are fine but require more technique when it comes to casting the baits as "birds-nest tangles" are more likely. It is interesting to note that champion distance casters all use overhead reels. What is more important is that the rod and reel are matching in terms of weight and tackle capacity.


More fishing action can be found on Outdoors with Geoff, 6.30am on Saturdays, TV3.