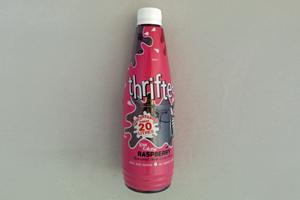 Thriftee Low Calorie Raspberry flavoured drink concentrate - $4.99 for 540ml.
I received a big reaction from readers last week who were astonished that a fruit drink could have more sugar in it per serve than Coke.
Some of those readers were the producers at Campbell Live who sent reporter Kate King around to my house to film an item on the amount of sugar in popular drinks. She put a range of drinks on my table and then proudly produced this bottle.
"No sugar. A good alternative for parents surely?" she said.
"Doubt it," I said, and grabbed it off her to look at the label.
The words "low calorie" and "no added sugar" sent me immediately to the ingredients label looking for the artificial sweeteners.
Which is where I saw the number "952", which stands for cyclamic acid - a sweetener so horrible they haven't been allowed to use it in the United States for 44 years.

Ingredients (in order of greatest quantity first):
• Water
• Acidity regulator (296 or 330) - I love ingredients labels that can't decide what is actually in the product you are eating. In this case it could be malic acid (296) which occurs naturally in fruits or citric acid (330).
• Sweeteners (952, 954, 955) - I have the number 952 etched on my memory because it represents one of the most horrendous food additives allowed in our food.
It is cyclamic acid, an artificial sweetener removed from food in the United States in 1969 because cyclamates (from which this substance is the acid) were found to cause bladder cancer in rats.
Despite this, cyclamic acid is freely allowed into New Zealand foods. Our Food Safety Authority says later studies could not replicate the 1969 results and other US agencies (the Cancer Assessment Committee of the FDA and the National Academy of Sciences) have concluded it is not a carcinogen. But a 44-year-old ban is enough to tell me that this shouldn't be allowed anywhere near our children.
Another sweetener is saccharin (954), which has had a controversial life.
Studies on animals showed that it can cause cancer and increase the potency of other cancer-causing chemicals.
In 1977, the American Food and Drug Association asked for it to be banned, but they were unsuccessful. However, products containing saccharin were required to have a warning on their labels explaining that it may be hazardous to health.
In 1997, the diet-food industry lobbied to get that removed, and in 2001 saccharin was removed from the government list of cancer-causing chemicals and later that year the requirement for a warning notice on labels was lifted.
Most food producers have been playing it safe by replacing saccharin with aspartame in most foods.
The third artificial sweetener is sucralose (955), which is the only non-caloric artificial sweetener made from sugar and has no known health effects. It is also known under the trade name "Splenda".
• Flavour - This will be artificial flavour to get the raspberry taste.
• Colour (123) - Another horrendous food additive amaranth (123) has also been banned for use in food in the United States since 1976.
High doses of this colouring caused a statistically significant increase in a variety of cancers in female rats, which led to the ban. The NZFSA website says that since that time other food authorities have analysed recent studies and concluded that Amaranth is not carcinogenic.
• Preservative (211) - Sodium benzoate: This is a preservative to prevent mould, often used in drinks. It is allowed by the FDA at low levels but research by the UK Food Standards Agency in 2007 found it could cause hyperactivity when mixed with some artificial food colours (though none in this bottle) and it recommended further studies. Coca Cola has phased it out of Diet Coke in the UK.
Editor's Note An earlier version of this story wrongly identified 211 as potassium benzoate. We regret the error.
My recommendations
Two additives that have been banned in the United States should send any consumer running and then there is the one that used to be labelled as hazardous to your health and listed as a carcinogen.
I know it is good to reduce sugar intake but replacing sugar with a chemical cocktail is not the way to go.
Fruit juice is high in sugar but your child is getting some nutrition with it rather than empty calories, or non calories in the case of this drink.
So dilute the fruit juice with water half and half and limit juice drinks to one a day and encourage nice, crisp cold water instead.

Highlights
• Two ingredients banned in the United States.
• One used to have to carry a warning label.
• 1 calorie per serving and no nutrition whatsoever.

Do you have a food product you would like Wendyl to feature? Email wendylwantstoknow@gmail.com with suggestions. Unfortunately Wendyl cannot correspond with readers.

Read Wendyl's columns on other food products.