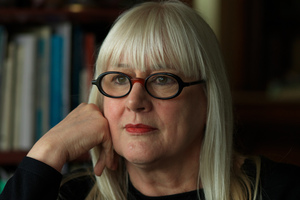 The book I most love is... The one I'd find it hardest to part with would have to be The Oxford English Dictionary, all 20 navy-blue volumes. I won the CD version in the journalism awards years ago, and they let me buy the printed one, instead. It turned out to be the last printed edition before the OED went online for good, so I was lucky. There's no excuse for being bored when you've got that in the house.
The book I'm reading righ t now is... The Forgotten Soldier by Guy Sajer, a first-person account of being a teenager in the German army on the Russian Front in World War II. I wish I could say that nothing so appalling has happened since.
The book I want to read next is... The Ideal Society And Its Enemies by Miles Fairburn. I liked Nearly Out Of Heart And Hope, which was based around the diaries of an itinerant NZ labourer between 1880 and 1925, so I'm interested in his take on what colonists thought we were doing here.
My favourite bookshop is... Quilters Bookshop in Wellington, my husband's shop. Second-hand bookshops of this kind are dying out because of the internet, but I don't think anything can beat browsing among real books, and making discoveries.
The book that changed me is... In Search Of Lost Time by Marcel Proust. It took me a year to read it, a few pages a day, and the world has seemed different, more Proustian, ever since. It's all the novel you'd ever need.
The book I wish I'd never read is... Metamorphosis and Other Stories by Franz Kafka. You get a queasy, nightmarish feeling when you're reading Kafka, and a shuddering distrust of authority that I don't think ever quite leaves you.
Journalist and textile collector Rosemary McLeod is the author of new crafting book With Bold Needle And Thread: Adventures in Vintage Needlecraft (Godwit).