Address:
152 Ponsonby Rd, Ponsonby
Phone:
(09) 361 2320.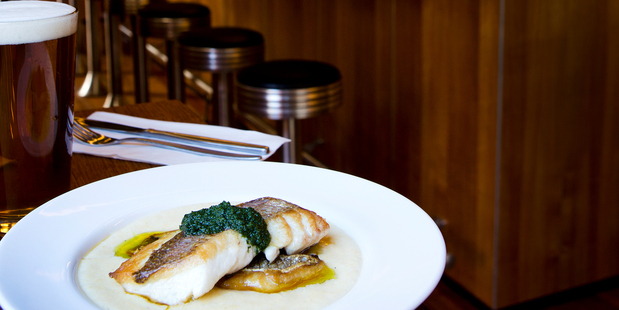 If you've ever lamented the closing of the Open Late Cafe in Ponsonby (oh those giant vessels of hot chocolate!) over the last few decades, or are too young to remember it but nonetheless find yourself craving a decent late-night snack on a regular basis, you're going to love the latest addition to the Ponsonby eat scene, Late Night Diner. Just open, it has all the essential elements of a true diner - a long counter with fixed-stool seating, a few booths to snuggle into, wooden veneer walls plastered with poster artwork, a sound system blasting great tunes and, most importantly, a short order menu with all the classic diner favourites - burger, reuben sandwich, onion rings, pumpkin pie and the rest. There's also a selection of "home cooking" dishes if you're after more than a dine and dash, like the crispy-skinned snapper on popcorn grits.
But the true test of any decent diner is always the burger so I parked myself at the counter, ordered the cheese and bacon burger, with a jar of pickles on the side, and watched it being cooked. The ultimate burger involves a thick, meaty pattie where the ground beef is held together in tight formation with enough seasoning (did you know, as well as being essential for seasoning, salt helps the proteins in the meat to bind?), grilled to smoky perfection, buns that are soft enough so that each bite doesn't force the filling out on to your lap but still chewy enough to put up a fight, pickles that ping with tanginess and cheese that's melted but not greasy.
What arrived was just that - a glorious burger to behold. Jimmy, the affable hipster barman, sorted me out with sauces from an extensive selection and I happily wolfed it all down. As I left, the Rolling Stones' anthem was letting us know that you can't always get what you want, but if you try sometime, you might find, you get what you need. Auckland needed a quality late night diner and this is just the ticket.
• Open 5pm-midnight Monday to Wednesday, 4pm-2am Thursday to Sunday
- VIVA