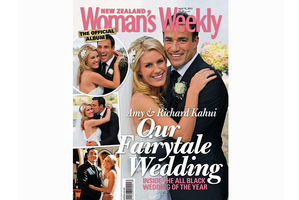 This week's Woman's Weekly has extensive coverage of the Kahuis' big day.
It's a weekend of wonderful weddings. All Black star Richard Kahui and Amy Rhodes wed on Friday at St Peter's Cathedral in Hamilton, taking advantage of the Chiefs' Super Rugby bye week.
Most of his team-mates were there, including All Blacks Liam Messam and Sam Cane.
The first pictures of Kahui's wedding have appeared in the latest edition of the Woman's Weekly.
Weekly editor Louise Wright said she paid for the story because of Kahui's huge appeal.
"He's articulate and he's strong and there is a lot of mystique around him. He has this X factor about him."
The reception was at a private property about 45km south of Hamilton, towards Kinleith. The venue overlooked the Waikato River. Kahui was returning to his roots; he was raised near there, in Tokoroa.
Kahui has been dating Rhodes, from Coogee in Sydney, since 2011.
Meanwhile, the man who wrote the script on newlyweds in bizarre surroundings himself wed for the third time yesterday.
Rocky Horror Show creator Richard O'Brien married German-born Sabrina Graf, 36, at their home at Aongatete, Bay of Plenty.
Guests were asked to wear white and the bride wore scarlet.
O'Brien, 71, who has stated he is both male and female, left it until late in the piece to decide whether to wear a suit or a frock.
He said he had never been happier and was convinced Graf was the perfect match.
"This is the third time for me - three times is the charm.
"She's from a lovely little village around the end of the Bavarian Alps, where Germany finishes up. It's not too different from here, though the temperature's quite a bit warmer here, of course."
Yesterday's guests arrived to drinks and a string quartet, followed by a brief ceremony and a breakfast with a jazz combo.
Earlier, O'Brien said the vows would not be long, scripted affairs.
"Oh yes, we'll have a celebrant. We're not going to stand there and tell everyone how much we love each other. We'll look each other in the eye and a wink will do."
Also yesterday, the cricket hero known as Two Metre Peter married his sweetheart, Libby Retallick, at Kaiapoi, north of Christchurch.
Cantabrian Peter Fulton, 34, was fresh from smashing two centuries against England in last month's third test at Eden Park in Auckland.
The bride's brother is the in-form rugby union lock Culum Retallick, who played for the Blues the night before the wedding.
It was a hectic weekend for Libby's All Black cousin Brodie Retallick, the Chiefs lock, who flew down after attending his teammate Kahui's wedding in Hamilton.

• Humour: Nuptials a chance to judge