Anna Subritzky comes to her Mums' rescue to craft a wedding headpiece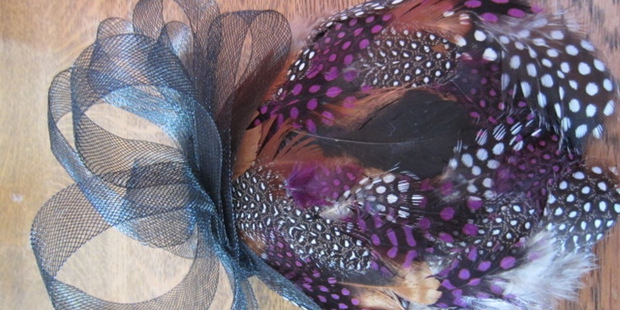 I was talking to my mother on the phone the other day when she popped the question, "I don't suppose you'd like to make me a fascinator, would you?"
Amidst the idle conversation about the children's wellbeing, just where had all the new apples gone and various other murky subjects, I did a double take.
What was a fascinator? By this point in the story you can deduce that I have a) never been to the races, b) never been to a posh wedding and c) don't mix in high society.
"You don't know what a fascinator is?" my mother exclaimed in mock outrage. I didn't bother to mention that as my mother she'd clearly failed me.
Once it was established that a fascinator is one of those half-a-hats made famous by the royals, usually including an extravagant flourish such as a feather or a bird together with some netting, I was booked in to make a fascinator for her to wear to a wedding.
"I'll bring the outfit over on the weekend", she concluded smugly and hung up.
Obviously she was hoping for something co-ordinated.
An internet search produced millions of images of the Duchess of Cambridge in an assortment of fascinators. It appeared that there was more to fascinators than I had initially thought, a multitude of factors needed careful consideration if I was to avoid my mother looking ridiculous. There was even an article entitled How to Wear a Fascinator Without Looking Stupid.
In Mum's case I would sadly have to dispense with the fake birds. Luckily there's a market for DIY fascinators and I was able to pick up most of the basic components at Spotlight. Here are a couple of tame examples.

Fascinator 1 (Mum's one)
Step 1 - Start with a fascinator base. Arrange chosen feathers on the base and secure with fabric glue or a glue gun. Start at one end and overlap the feathers as you go. Larger feathers may need clamping to keep them in place as they dry.
(I used pegs.)
Step 2 - Once the glue has dried, form a loose bow arrangement with specialty fascinator ribbon by making several bow shapes of different sizes and securing them at the centre with a few stitches. Position off to one side on the base and hand sew in place. Further manipulate bows if desired. (The gauzy ribbon lends itself to this, it's practically idiot-proof.) Tack in place or glue.
Step 3 - Figure out where on your head your fascinator will be worn and glue or stitch a comb or suitable clip to the underside of the base.
Fascinator 2 (The swan)
Step 1 - Start by covering the base as fascinator 1.
Step 2 - Using the template, cut two swan head/neck pieces from white felt. With wrong sides facing, blanket stitch the edges together using fancy thread if desired (such as metallic embroidery thread). Leave a small gap in the seam along one side and lightly stuff. (This is the closest you'll come to stuffing a swan). Blanket stitch gap closed. Cut one beak/face from black felt and one beak only from orange felt. Stitch orange beak over black beak, then pin beak and face section in position on the head. Hand-sew in place. Add a bead eye.
Step 3 - Pin to base so that head wraps around and sits slightly off-centre at the front. Hand-sew in place using discrete stitches. Add comb or clip to underside as above.

Materials/tools
• Fascinator basics (all available from Spotlight)
• Felt
• Embroidery thread
• Pins
• Needle and thread
• Scissors
• Glue
• Pegs
• Comb or clip