Greig Morgan crafts a play table to give tots hours of amusement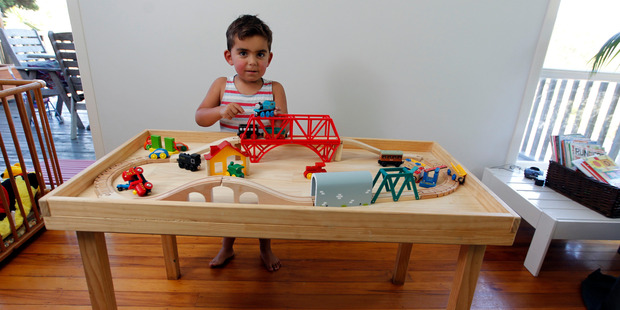 Preschoolers love to have their own special play zone. With that in mind, try making this simple, stable table, designed to keep the kids' toys in one place.

Step 1 - On the laminated pine panel, measure and mark the length of your table, then cut on the waste side of the line.
Step 2 - Cut two lengths of 45x19mm to the same length as your table top for the underside surround. Apply a bead of glue to the surround and fix down flush at the ends and sides of the top using 30mm screws evenly spaced apart and in the centre of surround. Pre-drill holes first, if needed.
Step 3 - Measure, mark and cut to length end pieces that will fit perfectly between the side surrounds. Glue and fix flush at the ends.
Step 4 - Legs: Measure and cut four pieces of 65x45mm to a length that suits the height of your child. Measure down 40mm from the top of each leg, then cut out a corner piece of about 15mm on the 45mm side of the leg, giving you a flat indent into which to fit the coach screw.
Step 5 - Place your legs to the inside corners or the underside surround with the flat indents facing inwards.
Step 6 - Measure, mark and cut your 45x19mm rails to fit so the legs are held in place, two lengths for the sides and two for the ends. Pre-drill evenly spaced holes in the centre of the 19mm edge before running a bead of glue along its length. Countersink the screws below the surface.
Step 7 - Corner blocks: Using the 45x19mm, measure and cut four pieces at an equal distance. Glue and screw them into place to brace and strengthen the rails.
Step 8 - Drill an 8mm hole in the middle of the corner block to line up with the centre of the notched out leg.
Step 9 - Fix the legs with coach screws and washers using a spanner. Be careful not to over-tighten.
Step 10 - For the top surround, measure and cut two lengths of 45x19mm to the same length as the table top. Glue along the 19mm edge.
Step 11 - Fix down the top surround with screws spaced evenly apart, and flush with the table top edges from the underside of the table.
Step 12 - Measure and cut two end pieces to fit perfectly between the side pieces. Glue and fix flush at the ends.
Step 13 - Use a finishing sander to prep the table, and then remove any dust with a damp cloth, ready for a coat of polyurethane. Lightly sand between coats with 220 wet-and-dry sandpaper.

Materials
• Laminated pine panel 600x18x1.8mm (top)
• 45x19mm pine (rails, underside and top surround)
• 65x45mm pine legs
• 45mm screws (rails)
• 30mm screws (underside surround)
• 60mm screws (top surround)
• Coach screws m8x75mm with washers
• Wood glue
• Polyurethane
• Paint brush
• 150g sandpaper
• 220 wet & dry sandpaper
Tools
• Mitre saw/sharp handsaw
• Screw gun
• Builder's square
• Adjustable spanner
• Tape measure & pencil
• 4mm drill bit (pre drilling)
• 8mm drill bit
Hand plane