Each week Rachel Grunwell will try out a new form of exercise to bring you the lowdown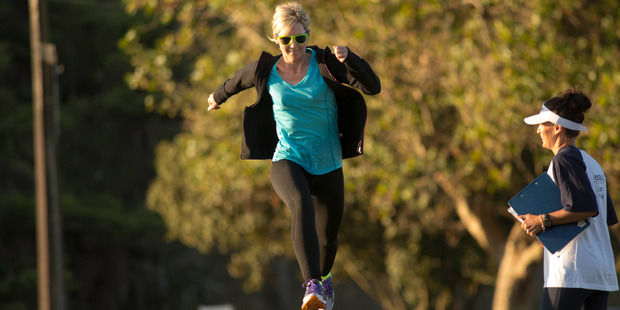 Cardiomax
What is it? An outdoor group personal training session run by Step Into Life.
What's needed? Workout gear, water, small towel.
The experience: When Jenny Hannah rings me, I imagine I may be in line for a thrashing, boxing style.
You see, her partner is events and boxing promoter Dean Lonergan. He's well known for getting non-boxers into the ring for an old-fashioned fist fight to raise big bucks for charity.
But as it turns out, she runs her own fitness gig. Hers entails a bit less blood on the floor, thankfully.
She owns a Step into Life franchise, and she asks me to try one of their group outdoor personal training sessions. Step into Life runs workouts focused on toning up, working on your core, box-kick classes and another session called endurit, which commands you to "test your limits".
I sign up for a cardiomax class, which helps build "maximum fitness".
I'm at Freyberg Park, near Browns Bay beach. It's 6pm, the sun is fading, the air is cooling and the grass is springy underfoot. It's uplifting to be outdoors; better than some gym's concrete four walls. No smell of sweat here.
Lisa Cook takes this class and welcomes me among a dozen of her regulars aged 20s to 50s-plus. There's a married couple who try to out-sprint each other during the sprint drills, and Meg, who's in her 20s and usually exercises with her dad; she says it's nice to spend some time together after returning from living in London.
So this class is for all ages, all levels; you just go at your own speed.
First, we run around the field, warming up. Then we leap over and weave through a giant concrete block fenceline around a field. These blocks stop "hooligans" getting their cars onto the field, says Lisa. What they're also good for is a punchy cardio blast and toning the legs and thighs. You feel calories incinerate.
Lisa adds lunges, interval training and cardio drills. There are also games thrown in using a tennis ball and playing catch and lots of buddying-up, which makes the workout social.
For several minutes I link arms with Meg while we count 10 squats in unison, and then run to cones and link up again for more rounds of squats. We then replace the squat counts with another exercise between, and so on ... Having a conversation with Meg between these leg-killing drills takes my mind off the physical test.
Meanwhile, Lisa constantly encourages everyone, saying: "It's not a jog, it's a run!", and "You know how I feel about you guys having too much fun - come on, get going!"
Several times during the session Lisa jots down results and heart rates. She keeps tabs on progress, as well as commitment. She cares about personal achievements. She might just have a chat to you if she thinks you're being slack, she tells me.
Lisa says her clients not only work out with her, she also helps "change their lifestyle". She jokes that her Friday night classes are particularly good for this "because if they come to see me then they're less likely to want to have a boozy Friday night".
The regulars say Lisa never does a repeat session, so you never know what to expect. But I reckon if you turn up here regularly you can expect to get fit. Lisa will make sure of it.
How much? The cost depends on how often you attend. For example, $22 once weekly, $17 a session twice a week, $15 a session three times a week, down to $12 a session a week for five-plus sessions.
Worth it? This is a challenging workout in the great outdoors. Your progress is noted.
Try it: Step into Life venues are at Freyberg Park in Woodlands Cres, Browns Bay, or Barry Curtis Park, Botany, Auckland. stepintolife.co.nz
Rating: 9/10