If your kids want to go all Dr Doolittle and talk to the animals there are plenty of places to do just that not too far away, writes Elisabeth Easther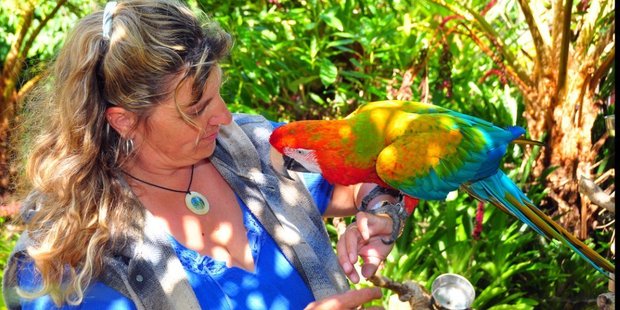 Hands up if you like animals. Cute little furry ones, big wild exotic ones, hairy, feathered, leathered, fluffy or covered in wool, animals rule. Whether they've scales, fins, spikes, fangs or wings, four legs, two legs eight legs, six, I want to touch them all, I want to hug them, hold them and love them. And I'm not alone in that desire, if the plethora of petting zoos is anything to go by.
So, assuming you're a fan of animals, too, read on to find out where you can live out your Dr Doolittle fantasies and get to grips with a little wildlife.
Kiwi Valley
Address: 308 Henderson Valley Rd, Henderson, Auckland
Phone: (09) 837 2952
Hours: 10am-4pm Wed-Sun. School holidays, 7 days a week
Website: kiwivalley.co.nz
Kiwi Valley sits on 7.3ha of fabulous farmland and there's loads to do, from cuddling a bunny, hand-feeding a lamb to petting a pig. Maybe your little ones want to ride a pony, get lost in the maze, or enjoy a tractor and trailer ride? There are also sheep to feed, donkeys, ducks, chickens and alpacas. And when you run out of steam, Pukeko Cafe is there for when Mum or Dad need a cup of tea and a sit-down.
Sheepworld
Address: SH1, 4km north of Warkworth
Phone: (09) 425 7444
Open: 9am-5pm 7 days a week except Christmas Day
Website: sheepworldfarm.co.nz
Forty-five minutes north of Auckland, Sheepworld gives townies and tourists a great taste of New Zealand rural life. The highlight of any visit will be watching the sheep dogs round up the girls (ie, the sheep), then see them shorn, with shows at 11am and 2pm. Authentic farmers make great presenters, and visitors can also feed tame animals, including eels in the pond when the conditions are eel-friendly.
Icing the cake, a great cafe and gift shop make this a grand place to take the family or visitors from overseas. The adventure terrain, eco-trail and picnic area are also popular.
Clevedon Animal Farm
Address: 71 Clevedon-Kawakawa Rd, Clevedon
Phone: (09) 292 9231
Open: Monday-Saturday by appointment only
Website: clevedonanimalfarm.co.nz
Ideal for preschool groups and birthday parties. Young visitors can ride a pony, or a donkey if they prefer. There's a popular show in the amphitheatre that includes a goat going through a hoop and on a see-saw, ponies shaking hands with the children, the donkeys kicking a soccer ball into a goal and a darling dog who does an agility course. All very endearing. The farm also boasts a beautiful herd of Maine Anjou beef stock and there are lovely walks for the well-shod, humans that is. Visits have an educational component as children are taught how to look after animals and help groom the ponies.
The farm is also popular with senior citizens.
The Parrot Place
Address: 1 Mission Rd, Kerikeri
Phone: (09) 407 5146
Open: 7 days, check website for hours
Website: theparrotplace.co.nz
The Parrot Place is a bird display and breeding centre with about 250 birds from all over the world. They also provide everything a bird needs to keep it healthy and happy and you can even buy birds there. Go on a parrot safari, take a wander through the striking subtropical gardens where the birds' bright colours and endearing behaviours will entrance you for hours, or have your photo taken while holding one of a selection of friendly birds. If you like your birds exotic, Elmo the talking Macaw will make you smile, or, if you prefer your fine-feathered friends to be indigenous, there are kakariki here, too. With a play area, and a shop for all your fish, bird, dog and cat needs, The Parrot Place is like a pet shop, only better.
Hawkes Bay Farmyard Zoo
Address: 32 East Rd, Haumoana, Hastings
Phone: (06) 875 0244
Open: 7 days, 10am-5pm, weather permitting
Website: farmyardzoo.co.nz
The Hawkes Bay Farmyard Zoo was established in 2004 and has a great selection of animals ranging from pigs, sheep and calves to ostriches, alpacas, turtles and peacocks. Springtime at the zoo is always a popular time with many baby animals being born and, when it's possible, you'll get to feed lambs, piglets, guinea piglets and rabbits. Bring a picnic or have a barbecue and enjoy the playground nearby. There are also lots of horses here and children can go on pony rides, take daily riding lessons or join in holiday programmes. They also offer horse treks ranging from one to three hours long.
Paradise Valley Springs Wildlife Park
Address: 467 Paradise Valley Rd, Rotorua
Phone: (07) 348 9667
Open: 7 days a week, 8am-8pm, although the shop and cafe close at 5pm
Website: paradisev.co.nz, agrodome.co.nz
This wildlife park is a real cracker, with New Zealand trout, bird enclosures and a wildlife park that includes deer, pigs, Himalayan thar and wallabies, which may be hand-fed. The park is also home to a pride of African lions (there is lion-feeding at 2.30pm each day) and is the only place in New Zealand where you can pat a lion cub when there's been a recent litter. There are many opportunities to get close to friendly farm animals while strolling along the streamside farm walk. Alpacas, goats and sheep are a few of the creatures expecting you to feed them.
Rotorua's Agrodome is also fun, with its own fabulous farm show, sheep and cows, deer, llamas, ostriches, pigs and alpacas.
Lilliputian Farm Fun and Animal Park
Address: 136 Link Rd, Taupo
Phone: (07) 378 2114
Open: 7 days, 10am-2pm weekdays, 10am-4pm weekends
Website: lilliput-farm-park.co.nz
This is a little ripper of a farm, where you can hand-feed more than 25 types of animals and birds as you wander over the lush grounds that occupy in excess of 4ha. Bring a picnic and spend all day. There are baby animals to cuddle in the barn and, when you leave, the cockatoos will bid you farewell. The selection of creatures includes deer, Captain Cooker pigs, miniature horses, brushtail opossums, emus, donkeys, alpacas, turkeys and ducks. Wallabies, too. There are several amazing play areas, friendly hosts and it's good value. The only problem is, you probably won't want to leave.
Ambury Farm Park
Address: 43 Ambury Rd, Mangere Bridge, Mangere
Website: regionalparks.aucklandcouncil.govt.nz
This working farm and coastal park at the base of the volcanic Mt Mangere is run by Auckland Council and is a great place to take the family. You'll see cows, turkeys, chickens, sheep, peacocks, goats, rabbits, horses and other farm animals. Time your visit right for feeding and milking demonstrations, which change with the seasons. There's also mountain biking and lots of good walks, including the Lost Gardens, Family Farm Walk and Foreshore Walk.
Marshall's Animal Park
Address: McLaren Falls Rd, RD1, Tauranga SH29
Phone: (07) 543-1099
Website: marshallsanimalpark.co.nz
This is great for littlies, and grandparents. Sometimes it's hard to tell who enjoys it more. At Marshalls you can see all sorts of domestic and exotic animals. As well as all the usuals, sheep, deer, goats, birds pigs and horses (from massive shire horses to sweet little miniatures) you can also see more unusual Tibetan yaks with the magnificent horns, while the Texas longhorns give the yaks a run for their money, horn-wise. Giant African ostriches, the world's largest birds, are not for patting, OK? There are also pony rides, a flying fox, a great playground and some neat walks. The view from the hilltop is panoramic so do get up there if you can. And there's eel viewing and feeding.