Danielle Wright meets young ocean swimmers competing in the 10th King of the Bays event at Takapuna Beach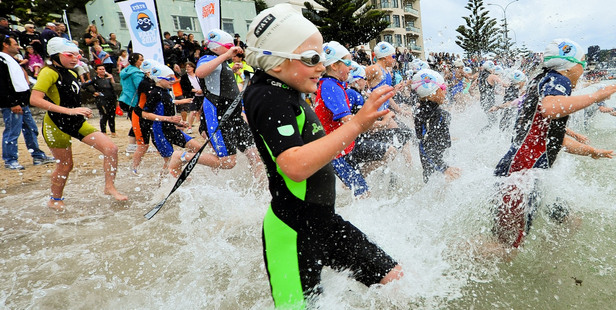 If you're watching the King of the Bays ocean swim next week, spare a thought for Hannah Milne and Lucy Powlesland, both 9, competing for the first time in this event among about 1500 competitors.
Hannah points at her mum, Nicola, when asked why she does it.
Training just under 10 hours a week, though, there's got to be more to it than that, I say.
Her eyes light up when she talks about heading out into the surf to other ocean swim events, which she has done since the age of 6.
"I like the waves and get to bodysurf," says Hannah. "It's quite exciting with all the people around and a bit of push and shove running straight to the finish line."
Hannah's friend Lucy Powlesland admits they chat on the way in and sometimes in the middle of a race, admitting the waves make the swimming much harder.
"Ocean swimming teaches you how to remain calm and stay out in the water," says Lucy, "It can be nerve-wracking thinking the waves will crash on top, but they never do."
For Hannah, ocean swimming is about serious training, rather than just for fun.
She says it's a competition and she probably wouldn't wait for her mates if they were going slow.
Hannah and Lucy don't wear special goggles, but do have wetsuits for added protection. Ocean swimming wetsuits are thinner than diving wetsuits to aid movement, as well as buoyancy.
One tip for swimmers new to ocean events is to try not to swallow much water, more likely because of the waves.
Salt water can make you thirsty or nauseous. Backstroke is recommended to help reduce the likelihood of drinking too much salty water as you go.
Many families plan their summer holidays around the six nationwide State Series swims and every generation can compete - from those as young as 6 to those well into their 80s.
Craig Liddell and his family, including OceanKids competitors Sam, 12, and Sally, 10, have participated in ocean swim events this summer including travelling to Paihia and Mount Maunganui.
Craig started ocean swimming two years ago and says: "I found swimming in a pool to be really boring and ocean swimming's something I always wanted to do."
He hasn't looked back, saying: "There's no downside to it. It's pretty much free, easily accessible in Auckland with a growing number of swimming events and when I ocean swim regularly, I feel 20 years younger in terms of the muscle strength around my bones and joints."
His enthusiasm for the sport has rubbed off on his whole family.
Sam and Sally's little sister Molly, 6, is also keen to sign up for next year's event and his wife may even take the plunge as well.
There's an added incentive for children to swim fast , with the first Jetstar Super Swim Squad offering the fastest age group swimmers (boy and girl) at the event a weekend squad camp with New Zealand Olympic swimmers.
Families also have the chance to win a family holiday to Sydney.
It's no secret that children love the beach, but unless parents develop a passion for a beach-sport alongside their children, there's going to be a lot of time staring at the lovely view from the sand.
Ocean swimming provides a chance for the whole family to increase their fitness, have fun and share the excitement of a major event together.

In the swim
• Next Saturday, April 6, is the final swim of the State NZ Ocean Swim Series, the State King of the Bays event off Takapuna Beach.
• The OceanKids event is a 200m swim with lifesavers in the water 15m apart. It's a swim parallel to the beach, just past the waves.
• Times: The 2.8km Ocean Swim starts at 9.30am at Milford Beach, the remaining events are at Takapuna Beach including the 1000m Ocean Swim (11.30am), 300m Ocean Swim (12.20pm) and the OceanKids 200m (12.25pm, slightly north of the main event).
• Everything you need to get started, including nutrition, squads and training tips is on oceanswim.co.nz