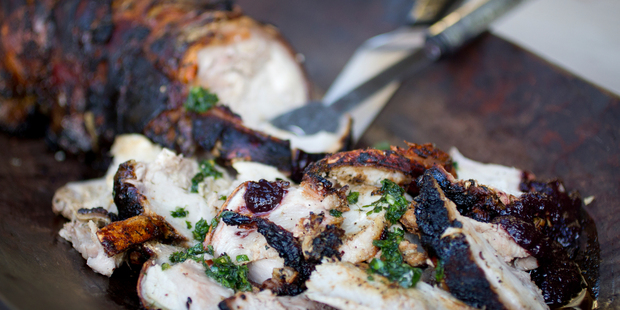 This recipe needs to be prepared two days in advance but it is worth the effort. All that is required is to juice some limes, make a simple spiced garlic marinade and coat the pork, then the following day marinate it in beer. After that, you just need to cook it - easy!

Serves 12
• 4. 5kg pork leg, boned and rolled (ask your butcher to do this for you)
• 18 garlic cloves, crushed
• 2 tbs ground cumin
• 2 tbs sea salt
• 1½ tbs paprika
• 2 tsp freshly ground black pepper
• juice of 4 limes
• 3 x 375ml bottles beer (lager)
• 80 g butter, melted

1. Use a small sharp knife to score the skin of the pork and make several deep incisions in the pork leg. Place in a non-reactive tray.
2. Combine the garlic, cumin, salt, paprika and pepper in a bowl.
3. Pour the lime juice over the pork and rub into all sides, then rub the spiced garlic paste over the pork, pushing it into the incisions. Cover and leave to marinate in the refrigerator for 12 to 24 hours.
4. Pour the beer over the pork, cover and return to the refrigerator to marinate for a further 12 to 24 hours, turning occasionally so that the leg marinates evenly.
5. Preheat a gas barbecue fitted with a rotisserie to 200C. All the burners should be turned to medium.
6. Insert the rotisserie rod lengthwise through the leg of pork, ensuring the pork leg is evenly balanced. Secure the rotisserie spit according to the manufacturer's instructions. Turn off the burners directly underneath the pork, leaving the side burners on medium. Place a drip tray filled with 1 cm water underneath the pork.
7. Baste the pork with the melted butter. Reduce the heat to 180C and cook the pork for 1½ to 2 hours, or until the skin is crisp and golden brown and the meat is just cooked through. Test with a skewer, the juices should run clear.
8. Use barbecue mitts to remove the rotisserie rod. Take the pork off the rod and place on a large tray. Cover with foil and set aside to rest for 10 minutes.
8 Cut into slices and serve with Peruvian Onion Salsa, Brazilian Rice, and Grilled Red Capsicum.