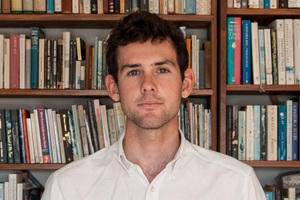 The book I love most is ... The Amber Spyglass, the final book in His Dark Materials Trilogy by Phillip Pullman. If there's one book or series that a teenager ought to read, this is it.
The book I'm reading right now is ... I tend to read a few books at once, albeit very slowly. At the moment I'm working my way through HHhH by Laurent Binet, Gormenghast by Mervyn Peake and The Little Friend by Donna Tartt.
The book I want to read next is ... Paradise Lost by John Milton. I've been trying to finish it for years.
My favourite bookshop is ... Wellington is spoiled for good bookshops but my favourite is a tiny comic book store in Brunswick, Melbourne. It's an amazing place. There's not an inch of bare wall, just comic books from the floor to the ceiling.
The book that changed me is ... His Dark Materials Trilogy probably fostered my interest in humanism but Cormac McCarthy's Blood Meridian turned me vegetarian solely through the strength of his imagery.
The book I wish I'd never read is ... I rarely regret reading a book because I find it hard to finish a book I don't enjoy. That being said, The Lord of The Rings by J.R.R. Tolkien was a fantastic waste of time and energy.
Wellington artist Patrick McDonald was the winner of 2013 Storylines Gavin Bishop Award.