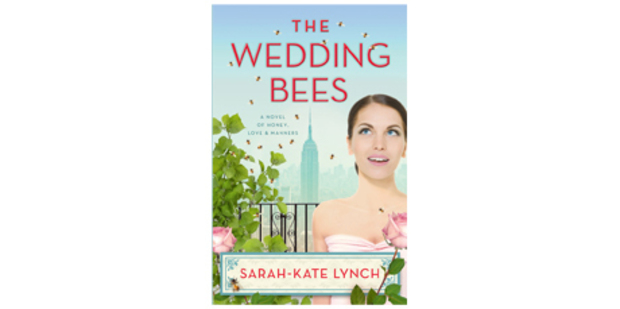 The Wedding Bees by Sarah-Kate Lynch
(HarperCollins, $34.99)
It can be a struggle to find a book that's truly uplifting. This is something I'm reminded of every time I try to provide suitable reading material for friends who are sick or suffering and I find darkness and death crops up in every title that comes to mind.
Not so The Wedding Bees, the eighth novel from best-selling New Zealand author Sarah-Kate Lynch, a sweetly old-fashioned romance with a high feel-good factor.
Lynch is based in Auckland but her stories have taken readers all over the world, from the champagne houses of France, to London, Ireland and most recently north Italy.
This time we travel to New York, where we meet charming Southern belle Sugar Wallace.
Sugar is something of a nomad. Since hurriedly leaving her home in South Carolina she has moved to a new town and embarked on a different life every year come springtime.
The only constant is the hive full of bees she takes from place to place so she can produce her own honey.
When we meet Sugar she is moving into an Alphabet City apartment building where there is a rooftop garden for her honeybees (urban bee-keeping is a growing trend in New York and there are rooftop hives all over Manhattan).
Brought up with Southern manners, Sugar is a doer of good deeds and quickly finds herself involved in the lives of the people who share her building.
There is anorexic Ruby who longs for love, single mum Lena whose attempt to open a balloon shop has flopped, feuding oldsters Mrs Keschl and Mr McNally, and painfully shy Nate. All need help and Sugar is delighted to offer it.
While busy bringing changes to other people's lives, Sugar neglects her own.
Fortunately, her bees have other talents besides making honey and, when it's clear she is in danger of missing out on something special, they find a way to intervene.
Full disclosure time - author Sarah-Kate Lynch and I go way back. We've known each other for more than two decades and she once supplied me with a job and a husband in the same year. So naturally I'm inclined to be a fan of her work.
Lynch has nomadic tendencies and travels whenever she can.
For this book, she journeyed from New York through to the Southern states and as a result the sense of place is so vivid it made me yearn to follow in her footsteps. The Wedding Bees is a romp of a novel, designed to be read for pure pleasure.
Happy and humorous, it's a reassuring story about love and friendship that gives hope good manners haven't disappeared completely and broken hearts can be mended.
Fans of Lynch's previous books won't be disappointed with this one.
Just be sure to have a pot of honey in the pantry, since it's sure to spark a craving.