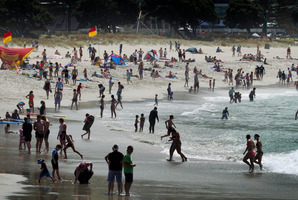 New Zealanders' long lives and educational attainment have put the country in the top 10 most developed countries in the world, according to a United Nations measure.
The Human Development Index, which brings together health, educational and income indicators, is pitched as a broader measure of wellbeing than conventional measures of national development, such as income alone and the rate of economic growth.
High health and education scores lifted New Zealand's index value, which saw it punch above the OECD index score.
Professor Tony Blakely, an Otago University researcher, said the return on what we spend in the health sector was partly reflected in our life expectancy. But that was only half the story as we ranked outside the top 10 in that individual measure.
Instead, New Zealand's health spending - which was much less than that of the United States, which spent the equivalent of 17 per cent of its GDP in 2010 on health - performed well because of the efficiency of drug buying agency Pharmac and the primary health and health promotion sectors.
Auckland University's Peter O'Conner, an associate professor in critical studies in education, said the country had a world-class education system.
"We can point to success based on the quality of our teachers, the quality of our broad national curriculum and that we are addressing what's described as the long tail of underachievement and we're doing that with innovative programmes."
The flexibility of the education system with private, public, kura kaupapa and special character schools was also a strength.
"That happens nowhere else in the world."
The 10 least developed nations of the 186 surveyed were all from Africa, and included Niger, Democratic Republic of Congo, Mozambique, Chad and Burkina Faso.
Sir Peter Leitch thinks New Zealand is "the best country in the world" and wouldn't live anywhere else.
"I do a lot of travel and I can't wait to get home when I go away.
Sir Peter said there would not be many countries where he could have built the Mad Butcher chain from the ground up, or where Sir Michael Hill could have built his jewellery empire.


Top 10 countries
UN Human Development Index:
• Norway
• Australia
• United States
• Netherlands
• Germany
• New Zealand
• Ireland
• Sweden
• Switzerland
• Japan
NZ statistics:
Health
• Life expectancy: 80.8
• Under-5 mortality rate: 6 per 1000 live births
• 8.4 per cent of gross domestic product expenditure on public health
Education
• 7.2 per cent of GDP expenditure on education
• 12.5 mean years of schooling
• 19.7 expected years of schooling of children
Income
• US$24,358 Gross national income. Relative figure based on purchasing power parity rates
Source: United Nations Development Programme
* Read the Herald's live news blog here.