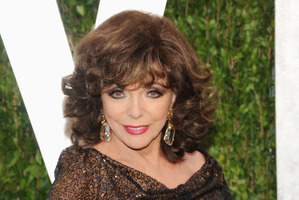 Joan Collins has described herself as a fashion maven of timeless beauty.
The 79-year-old actress-and-author is one of the world's most photographed women.
As she approaches her 80th birthday, the legendary star also remains one of the world's most glamorous.
As a result, Collins is a self-confessed expert in the field of growing old gracefully.
"I'm a fashion maven of timeless beauty,'' Collins told British newspaper The Telegraph.
"I think I'm quite photogenic.''
Collins' glory days were when she starred as the feisty Alexis Carrington in the 1980s super-soap Dynasty. Her mantra is that her appearance is a statement of how she feels about herself.
While refusing to succumb to cosmetic surgery, Joan does admit to dabbling with Botox - which is something she deeply regrets.
"I hated my single dalliance with Botox it was horrible, I loathed it.''
Her iconic appearance is one the veteran actress developed on her own. She broke away from conformity when she was a young to create an image she would be happy with. The eyeliner-ringed green eyes, set in a heart-shaped pale face and with trademark bright lipstick has since become her signature look.
"I took control of my image from shortly after I left Twentieth Century Fox.
"They put me in those wigs, dreadful wigs, and painted my face. I was in my 20s and I looked 40. I had to conform to so much.''
- COVER MEDIA