Inspired by magazines and the internet, a Wellington couple have created a bright family home in a renovated railway cottage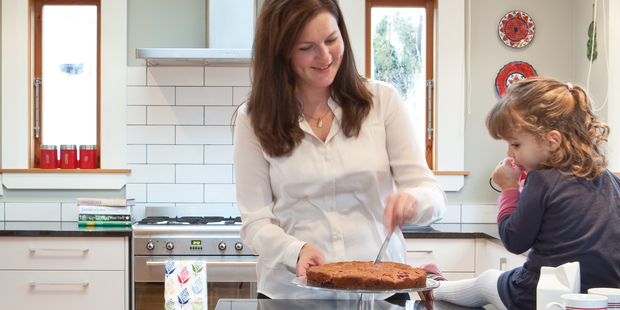 Street appeal is often a decisive factor when buying a house, and that's what attracted Vanessa Palmer and husband Matt Dumbill to their Wellington home.
The ex-railway cottage sat prettily in the streetscape and was on a flat section with drive-on access and all-day sun - rare qualities in the narrow streets of the hilly capital city.
When they moved in about six years ago, the couple envisaged renovations that would maximise the house's attributes and open the rear of the house to the backyard - perfect for barbecues with friends and for kids to run around.
"Despite the work that needed to be done, the fact that it was an original home really appealed because we could start from scratch," says Dumbill.
Making the house warm was the first job and that meant putting in insulation, sealing up the chimneys and installing a heat pump.
The cottage's layout was also a problem, with the kitchen, bathroom and laundry housed in a lean-to at the rear.
"The toilet was accessed through a back door leading out of the kitchen and across a porch," says Palmer. "On a freezing winter's night that wasn't a fun experience."
She drew inspiration for their renovation from the internet, interior design shows and magazines.
"I also searched real estate websites to look at renovated villas in Auckland and see how those character homes have been opened up to the backyard," she says.
With no renovating experience, the couple enlisted architectural draughtsman Craig Fafeita to draw up the plans for a major renovation.
"The lean-to was completely removed to make way for the new open-plan kitchen, living and dining area," says Palmer. "All the windows in this area were replaced and the bathroom was relocated to one of the smaller rooms off the central hallway. The entire house was stripped, insulated and re-lined. The ceilings were re-plastered, with new architraves, skirtings and window frames installed. Everything was painted and the floorboards were sanded and polished."
In recent years, Palmer has been in charge of decorating the bedrooms of daughters Emilia, 3, and Lucia, 1.
"I chose to keep the curtains and walls free from anything too themed, and instead focused on accessories that are easy to change, such as bunting, lanterns, bed linen, wall stickers and art. All of our bedrooms have the same curtain fabric and wall colours, but they each have a different look."
Palmer says decorating her girls' rooms stirred her current obsession with bright colours: "It seems to make a room feel more happy and fun. Any room that feels warm, welcoming and lived-in appeals to me."

Style tips
Key colours: Palmer has some favourite colours that have worked well. "Red has been my go-to colour for homeware, along with duck egg blue. Having girls means pink makes an appearance."
Background effect: Choose the right wall colours to complement your decor. In the kitchen and dining area Palmer used a warm neutral shade to act as a backdrop to her red accessories.
Frame game: Framing unusual objects makes them a point of interest. Palmer says, "We've had tea towels framed, and even a coaster made of feathers framed in a shadow box."