We join Viva eating out editor and World Kitchen presenter Nici Wickes for a feast at her seaside retreat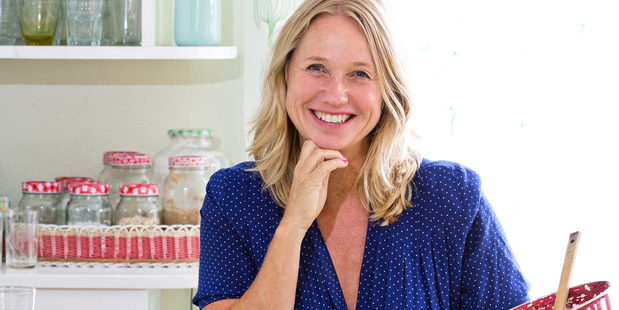 We turn off the Southern Motorway and drive the last 25km alongside the wind-whipped harbour entrance to Port Waikato. It's tranquil and deserted midweek but as we pull up at a typical bach, the French doors fly open and Viva eating out editor Nici Wickes suddenly appears, welcoming, pushing us into the charming open-plan living space where a variety of dishes spill over bench and table, all partly completed for our lunch. It feels as if we have gone away on a rather wonderful holiday. Luckily, we're hungry.
Nici is efficiently creating a feast with recipes from her new cookbook, Cook, Eat, Enjoy, which will be released next month - recipes that were inspired by food from her travels and adapted with shortcuts for home kitchens.
"I bring recipes back with me, not photos," she says, adding that she is careful always to maintain the authenticity of each recipe.
But before we get to our first bite of the chicken and leek pies, there's coffee from her pale blue espresso machine, poured into retro cups to accompany some lively chat.
The well-travelled TV personality and chef, whose World Kitchen series is the most widely screened of any New Zealand cooking show (80 countries), says she has been recognised everywhere from Hong Kong to Queenstown.
Clayton Carpinter, World Kitchen's director of photography, took the shots for the about-to-be-released book. "Clay and I have eaten our way around the world together for the past four years and I just knew he was the best person to capture my style of cooking, which is fun, casual and feast-like."
Though her two favourite places to visit are Italy and, in contrast, India, she is more than content in this backwater community where she was the force behind this summer's fledgling farmers' market.
Nici also runs cooking classes at the Port three times a year for schoolchildren who cook for three to four days and then serve a community meal for paying locals in the hall. And she's the go-to celebrity chef for events and fundraisers. She detests the title.
"My big thing is never to be called a celebrity chef," she says. "It's an extraordinary title. I am a trained chef but I call myself a cook because I have never worked a line in a restaurant."
Nici has owned her bijou retreat here for 10 years. She says she has made a conscious decision to live simply, without too many gadgets. "It's what life should be about," she adds. What started as a weekender became her home, but these days her work for Viva and her busy touring and cooking schedule means she spends just half the week at Port Waikato.
"I use it as a nest to come back to. My sister said it's a real girly space," she adds, surveying a room chock-full of pretty vintage sentimentality: open dressers, colourful cushions, mismatched china, a yellow lei pinned to one wall, a tennis racket on another, clothesline and pegs holding a stream of photos against a window.
"I love small towns. I love the sense of community. I used to have a lot of dinner parties," she adds, "but round here they have potlucks, lots of quinoa, great salads and fresh fish. I love them now but once I refused to do them.
"I do think eating together is a wonderful way of being part of a community. I like shared plates but individual puddings - I came from a big family [with four sisters] and you were always worried you would miss out."
These days, Nici does most of the cooking at family gatherings. "I hope they don't mind. I love cooking and the hardest thing for me is letting others help. It's so not a chore. Helping me is taking something from me.
"I am big on flavour but small on process," she adds, describing her food philosophy. "I want everyone to have fun cooking. People make so many different things for a meal when entertaining but they need to keep it simple. Buy your dessert if you want to.
"Sometimes the surprising heroes for a meal can be something simple like homemade pita bread."
The smell of yeast fills the room as the small balls of dough are transferred to hot frypans to puff up in a couple of minutes. Elsewhere on the bench, yellow zucchini from her garden and red capsicums sit in a colander waiting their turn to char and soften on the stovetop, to be served at room temperature with a red wine and olive oil dressing and a satisfying crumble of feta.
The kitchen is a capsule space: small bench tops either side of the sink and an upright stove. "I have cooked for 100 people in here," she says.
The rounds of pita dough compete for space with bowls used to ice a Mexican Tres Leche Cake that we will soon devour. "This is the cake of all cakes. In Mexico they serve it at birthdays, but I like it for every day."
A firm sponge, it is saturated with a mix of whole milk, evaporated milk and condensed milk and, miraculously, it absorbs all three. "I love Mexicans' sweet palate and I love the icing, made with vanilla, milk and sugar."
It is decorated in true fiesta style with coloured sprinkles and a filling of cream and mango. Like everything we are about to eat, the recipe comes from her new book.
"It was a huge amount of work," Nici says. "Cookbooks should cost $22,000 each - they are no easy feat." Still, she is keen to do another. "Sure, you can get recipes online, but a book goes through so many people's hands, being tested and edited again and again that you can trust the recipes.
"Cook, Eat, Enjoy contains killer world dishes, the big names from tagine to moussaka. It's good for people to know they are not that hard. I don't put in prep or overall cooking times because these are pretty dependant on who is doing the prepping as well as how your cooking equipment performs. And, it also focuses people's attention on all the wrong areas - making only food that takes the least amount of time to make.
"Honing in on convenience instead of deliciousness or quality. This is a very developed, busy-world attitude and so many home cooks around the world appreciate and like the process of cooking, instead of trying to shorten or eliminate it. In Morocco, couscous takes about two hours to prepare and cook, none of this instant business. I appreciate the temptation but if you look to the US you can see how we might lose the plot.
"When I was in Venice Beach I could buy shelled and peeled coconut cheaper than the cost of buying a whole one. But, buying this, you risk losing the ability to prepare a whole coconut."
Today's lunch was prepared in front of the guests so our photographs could be taken, but Nici is one organised cook. "There is nothing worse than not being ready when guests arrive. It's so stressful. A lot of what I do can be served at room temperature so I can make it ahead. And I like it at the end of the night when the guests have gone home, having a last wine, reflecting on the evening and tidying up with the scent of the meal still around you."
• Cook, Eat, Enjoy (HarperCollins: $44.99) will be in stores in April

- VIVA