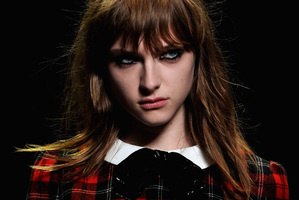 Marc Jacobs believes modern grunge is "style without substance''.
In 1992 the designer famously showed a grunge-inspired line for his then-label Perry Ellis. Although fashion critics loved the pieces, the collection didn't sell and the following year Jacobs was dismissed from the company.
The plaid shirts and clumpy boots are now seen as the embodiment of that aesthetic. During the recent show season grunge made a comeback, with Saint Laurent in particular showing checked tops, large overcoats and flimsy dresses.
Jacobs believes some of the message of the original 90s look has been lost for young people today.
"Now it's just style without substance,'' he says.
"At the time, when we did grunge, there was a real reason, there was change - it felt substantial, like punk. Now people have Mohawks and have no idea what the social significance was.
So grunge has joined the ranks of punk in a way.''
Jacobs is proud of all the work he's done, even the bits which haven't been well received by others. He never listens to the public, instead only creating collections which are true to his vision.
The designer is also the creative director of Louis Vuitton and Diet Coke and recently made a foray into movies. He portrays a pimp called Harvey in film Disconnect and was horrified by the costume he was offered.
"Everyone in my office has seen me in bras, dressed up for cabaret - all kinds of crazy get-ups - and they've never laughed,'' he told Stylist.
"But seeing me in acid-wash dad jeans for my role in Disconnect? They thought it was hysterical. But Harvey was my character and he's done. He provided no inspiration [for my clothing lines] whatsoever.''
- COVER MEDIA