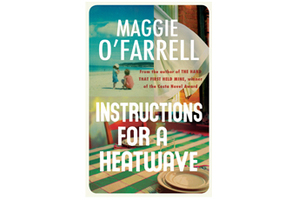 Instructions For A Heatwave by Maggie O'Farrell
(Tinder Press $36.99)
The thing I love most about Maggie O'Farrell's writing is the way she colours in her characters. Everyone who's important to the plot of her latest novel, Instructions For A Heatwave, gets the same treatment: we're told how they look, the way they think, their foibles, where they come in the family, what they are doing at this point in their lives - and how they got there. But O'Farrell always leaves out enough vital information to keep you wondering.
Indeed, you don't even learn how to pronounce one of the leading characters' names until two-thirds of the way through the book.
The story, though, set in the legendary London heatwave of 1976, is seriously Irish.
Mammy, or Gretta, has run her family on a mixture of Catholic guilt, good food (three loaves of home-baked soda bread a week), plenty of love and the odd tantrum.
Now her kids, who left the family home years ago, are well into their own complicated relationships. To Mammy's delight, and her son's despair, Michael Francis, the eldest, has followed instructions and lives around the corner with Claire and their kids. Monica, who used to live around the corner with her husband, is on to her second marriage (less delight). And Aoife, the youngest, took off years ago and now lives in New York where she talked herself into a job assisting a famous photographer, and lives in sin with her boyfriend Gabe (serious despair). She only keeps in touch with Michael Francis.
The plot hinges on the disappearance of Robert, Gretta's husband and the children's father. A recently retired banker, Robert's a creature of habit. He gets up one morning, heads out to get the paper as he does at 6.45am every day of his life - and disappears.
It's an unusual move for a man who normally follows his wife from room to room. Yet, only after a full day without hearing from him, does Gretta call Monica, and then Michael Francis. It is then, after the siblings arrive back home to support their mother and find their father, that the real stories start to leak out. Michael Francis' perfect marriage is, he thinks, on the brink of divorce. The sisters, who shared a bedroom for years, are barely speaking. Aoife's life-long learning difficulty (largely ignored in 1960s London) may well get her fired.
Even uptight Monica, who did the right thing all through her life (until the divorce) has got herself into a mess. Her two stepdaughters despise her, her new home in the country makes her stomach turn, and the man she married on the rebound is a hippie who couldn't be more different.
But it's Mammy, who forced them all to Sunday mass, who still growls when they say "bloody" and brought them up as God-fearing Catholics, who has the biggest secret to hide. What she doesn't realise - it's buried so far down - is that the same secret may hold the key to her husband's disappearance.
O'Farrell brilliantly demonstrates how the ripple effect from those inevitable, indelible, childhood traumas live on and on, becoming wider, fuzzier, less coherent - and more damaging - as we age. Kids get so many things wrong. Parents, no matter how loving, mess up. In this case they all tried to live by Mammy's strict Irish Catholic rules in a world that's moved on. And they failed.
What she did produce, though, were three people with decent human values.
I read Introduction To A Heatwave in three sittings - it was so fascinating, so un-put-downable, so beautifully written.
O'Farrell writes about the tough things with a light and optimistic touch and a unique rhythm. Her descriptions are poignant and she is fascinated by the things that happen when people disappear. Her characters are believable and infinitely appealing.
If you like people, you'll love this.
Carroll du Chateau is an Auckland reviewer.