Address:
422 New North Rd, Kingsland
Phone:
(09) 846 4964
Cuisine:
Californian casual
Rating:
6/10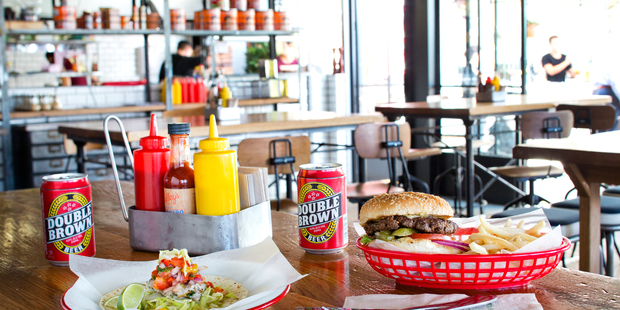 The newest bar and eatery in Kingsland is very "on trend". In fact it appears that Citizen Park is on all the trends at once - casual eats, Americanised cuisine but with a twist of Mexican, plates to share, grills to hog, sliders of course, chipotle mayo everywhere ... and that's just the food. Decor-wise, there are distressed concrete walls, exposed cords, and an outdoor courtyard which has a basketball court marked out in colourful paint. There's a white tiled bar, a striped awning, a neon sign, new-old tables and chairs ... You get the picture. It has something for everyone, and by the crowds parking up there since opening barely a week ago, the neighbourhood is embracing it.
We sat outside under the impressive retractable roof, ordered strawberry ciders for the girls and beers for the boys who noted how limited the selection was, given the current craze for craft beer.
The menu, printed on over-sized sheets of paper (of course), offers an assortment of soft-shelled tacos, tamales, a ceviche, grills and ribs and, during lunchtime, a full selection of the classic sandwiches (reuben, hoagie, po-boy, and so on) and salads are added to the offerings.
The staff informed us the food style was "Southern Californian".
We began with a round of tacos and they came served with flour, not corn, tortillas, which I forgave given they arrived soft, small and warm and were generously laden with fillings - tasty pulled pork, spicy fried fish, steak. Unfortunately all of them lacked what the menu promised as hero ingredients - little or no black lime in the Baja fish, no pickled tamarillo nor spring onion in the pork and the "chipotle cheese" in the steak was more like feta. But they're cheap at only $6 each. A plate of dirty bird, aka fried chicken, was a dream; softly crunchy corn and cayenne batter encased chunks of chicken, deep-fried, yet magically non-greasy. We loved it. The "tequila fried oysters" hadn't escaped the same fat trap and though rich and tasty, were overwhelmed with oil.
I opted for the Californian burger and it arrived looking every bit the part in a cute red paper-lined plastic basket. But looks aren't everything. Standard sesame bun, cheese grilled to oblivion, a meat patty nicely charred, but mostly unseasoned. I was dreaming of one where brioche-style buns clap their soft and chewy goodness around a well-seasoned patty, char-grilled but still rosy and juicy in the centre. I don't get this fashion for Americanised bar food - since when was it a cuisine to be revered? - but if we're going to chase this current craze, can we at least do it with all our fresh-faced might, making better, juicier burgers, tastier tacos and a mac and cheese that's cheesy, not milky?
A rack of pork ribs arrived on a wooden board glistening with a lick of our chosen sauce, the bourbon glaze. Tender and meaty enough, they lacked the hickory flavour I'd hoped for and they, like much of the food we tried, needed a kick of something. Perhaps the selection of sauces on our table was supposed to do that.
The "banoffie (sic) pie" proved Citizen Park still needs more work. It was overly tacky in the "toffee" department, the peanut brittle was missing and there wasn't enough fresh whipped cream to qualify this as an authentic diner delight. The tequila sorbet was a better shot, although the tequila came in a plastic shot glass.
I'm told they're wanting the food, not the booze, to be the main attraction at Citizen Park but with plastic drinking vessels, a spiked wrought-iron fence for crowd control and a drinks list more suited to swilling than sipping, I'd say they're hedging their bets. Eateries like this one leave me feeling a tad food snobbish because I'm not willing to ignore that the fare, under the guise of being "casual", is all-too standard.
From the menu: Tequila fried oysters $10, Tacos - fish, pork, steak $6 each, dirty bird $8, Californian hamburger $10, Rack of hickory ribs $25, Sides of mac and cheese $7, slaw $6, onion rings $8, Banoffee pie $10, Tequila sorbet $10
Drinks: Fully licensed
- VIVA