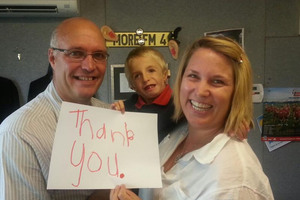 Theo de Heer's family are looking forward to taking the 5-year-old to an American conference where his unusual appearance, caused by an extremely rare disorder, won't look out of place.
"Every day he deals with people staring at him, kids staring at him," says his mum, Sarah.
"He hasn't met anyone who looks like him. He will be able to walk into a room and everyone will be the same: they will have tracheostomies [a breathing device in the throat], they will have hearing aids, they will have hands with fingers missing, they will have speech issues, their faces won't look like normal children's, but it won't matter."
Theo was born with Nager's syndrome, caused by a genetic mutation. His parents want to take him and their other son, Codie, 3, to the conference for people with the syndrome and their families in Seattle in June.
As a newborn, Theo had to have a tracheostomy as the disorder left his lower jaw too small.
His tongue, of normal size, blocked his airway. The breathing device was removed last November and he will have an operation next month to repair the hole in his throat.
The device could be removed only because he has had four surgeries - among more than 20 operations to fix various problems - to enlarge his lower jaw by 4cm in total. It is uncertain whether more enlargement operations will be needed.
They have led to Theo's being able to breathe normally and have helped his eating, although he is limited to soft foods and still needs supplementary feeding through an abdominal port.
The disorder also left Theo's thumbs and forearms not formed properly and there is no opening to his middle ear.
Nothing can be done for his forearms, in which the two bones are fused near the elbow, leaving them unable to rotate.
Hearing aids have been screwed on to Theo's skull and the sound passes through the bone. He has learned sign language to supplement his speech, which is quiet and inarticulate.
Mrs de Heer says Theo's intelligence is not affected by the disorder and he loves school.
Mrs de Heer and husband Anthonie were struggling, even with the help of a fundraising website, to raise more than $10,000 needed for flights and accommodation to attend the conference.
But this changed after she, Mr de Heer and Theo went on air on a Christchurch radio station. Now they have more than enough - $14,800 - and will put the balance towards attending the two-yearly conference in 2015.
Nager's syndrome
* Extremely rare - about 120 cases have been reported worldwide.
* Can cause cleft palate and abnormalities of the jaw, cheeks, eyelids, ears, forearms and thumbs.
* Usually caused by a new genetic mutation, which then puts the person at risk of passing it on to their own children.
* Causes of the mutation are unknown.