Creative Kiwis are finding novel ways to get the wherewithal to race to Fiji.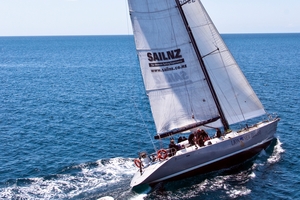 While the idea of sailing away to a tropical island has a wide appeal, for most it is out of reach.
Yet, as a look through the entries in the upcoming Auckland to Fiji race reveals, a number of inventive Kiwis are finding ways to make their dreams come true.
For Paul Stock, owner of the Davidson 42 performance racer-cruiser, Spitfire, the answer has been to offer crew places on board in a commercial fashion.
Inspired by the adventure sailing opportunities created in Europe by Chay Blyth and Robin Knox-Johnston (admittedly on a far bigger scale), Stock has established SailEx, a yacht charter business specialising in yacht racing and team experiences.
In the 1141 nautical mile Auckland to Musket Cove, Fiji Ocean Race 2013, SailEx is aiming to sell eight crew places on Spitfire for around $2000 each. While Stock would prefer the sailors to have some offshore experience, he is remarkably flexible.
"We don't necessarily need every sailor to be experienced, but we do need a mix of experience onboard," he explains.
Stock says he is happy to cater for individuals or couples, a group of friends or even a corporate team.
"We will practice and do a qualifying sail before the race starts."
He says Spitfire is poised to obtain its Category 1 safety certificate and is fitted with a comprehensive sail wardrobe.
"All it needs is crew."
Young people wanting to join the race and gain their first offshore race experience can do so on the somewhat larger Lion New Zealand. A 24m hardened ocean racer, Lion was Sir Peter Blake's entry in the 1985-86 Whitbread Around the World race, the forerunner to the Volvo Ocean Race. She is now owned and managed by the New Zealand Sailing Trust
As the trust's general manager, Erin McKenna, explains, the intention in this race is to help young people further their sailing careers.
"We are looking for 15 young people and this will be the trip of a lifetime."
For at least some of them, it could also be the start of an addictive hobby. As McKenna explains, one of the boys who raced offshore aboard Lion two years ago has now bought his own boat and has ambitions to race it offshore.
To be eligible to join the Lion New Zealand crew for the trip from Auckland to Fiji, aspiring offshore sailors will need to be at least 16 years old. They will also need to stump up a $3500 contribution (towards the cost of hiring experienced crew, insurance, boat requirements and the return airfare) and be able to take the required time off work (a week).
McKenna is hoping yacht clubs will support their youth sailors in raising the funds required.
She says the trust is also looking for crew for the return voyage to New Zealand.
"On both trips, participants will take part in all aspects of sailing, including night shifts, cooking and cleaning."
The Musket Cove race will also, for an eight-strong team from Tauranga, mark the culmination of a dream that has been in the pipeline for more than a decade.
Now called Team Squealer, this syndicate of like-minded sailors began their journey in 2000; each putting in $1000 to purchase the Ross 930 Drop Dead Fred and taking out a bank loan that they committed to paying off on a monthly basis.
They also worked hard to restore Drop Dead Fred, undertaking most of the work themselves. For five years, they sailed in a range of major regattas, taking out wins in the Ross 930 National Championships and the Coastal Classic in the process.
In the time-honoured Kiwi fashion, they then sold their rejuvenated boat and bought a bigger one until they graduated to their third boat, the Elliott 10.5m The Butcher.
As with Drop Dead Fred, their new boat, now renamed Squealer, needed quite a lot of work. This time, the syndicate opted to employ a professional boat builder and the Elliott was soon sporting a new keel and motor as well as improvements to her rig.
While syndicate member Lisa Knapton admits that the additional investment was heavy, she points out that, because it was split among eight people, it was manageable.
"The syndicate approach also means the team is willing and able to spend money where it counts for performance's sake, in particular on sails.
"We don't worry about how much our sails cost," she says. "It's like petrol in a car, you just do it."
Last November, the team treated the 320 nautical mile White Island Race as a qualifier for the Fiji event, sailing about 600 nautical miles, including the delivery to and from Auckland.
Royal New Zealand Yacht Squadron rear commodore Steve Mair is taking yet another approach. He is participating in the event's cruising division (called a cruising rally) on his father's boat, Vision.
Replicating what they did in 2011, Mair and a group of friends will be able to venture offshore on a comfortable, well equipped yacht; while his father will be able to start his island holiday cruise in Fiji, without having do anything to prepare the boat or deliver her.
It is a model he believes could have wide appeal. "I can think of a number of yachts that simply need a handful of experienced crew to be ready for the ocean race in June," he says. "There are also many crew who have years of sailing experience behind them, but who need the opportunity to step into offshore racing.
"It is a win-win situation."
Mair says the Royal New Zealand Yacht Squadron, who are organising the race to Fiji, offers help and advice for any boat owner or crew member, in New Zealand or overseas, thinking of entering.
He is, not surprisingly, encouraging as many people as possible to enter.
The event's racing division will start off Westhaven Marina on June 1 with the cruisers beginning a few days earlier from either Auckland or Opua.

Fiji Ocean Race 2013
From: Westhaven, Marina, Auckland
To: Musket Cove Resort, Fiji
Starts on: June 1, 2013
More information: www.rnzys.co.nz
SailEx (Spitfire): www.sailex.co.nz
Lion New Zealand: www.nzsailingtrust.com