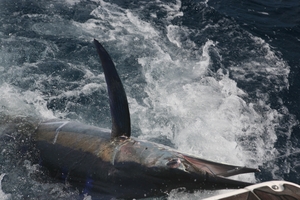 Veteran Bay of Islands charter skipper Bruce Smith and his team on Striker won the prestigious striped marlin section of the annual Nationals game fishing tournament recently. The week-long event involved 1535 anglers in 424 teams representing 39 clubs around the country. While teams can fish anywhere they earn points for their club, and the emphasis is on catch and release with points awarded for light tackle catches. But there are many categories covering the various fish species, and the top teams were : Striped marlin Striker (Bay of Islands) 4950 points, 1; November Rain (Whangaroa) 4500 points, 2; Noelani (Tauranga) 3998 points, 3.
Billfish (blue marlin, black marlin, broadbill swordfish) Kairos (Waihau Bay) 829.73 points, 1; Blue Angel (Waihau Bay) 819.19 points, 2; Reel Pashion (Hauraki Gulf) 717.84 points, 3.
Rick Pollock's team on Pursuit won the yellowtail section with 1593 points, and the champion individual angler was Lloyd Smith with his 307kg blue marlin on 37kg tackle at Waihau Bay.
Ian Kinvig also caught the biggest tuna, a bigeye of 117.1kg at Waihau Bay, and the heaviest yellowtail kingfish was a 25.85kg fish caught by Mike Christie of Hawkes Bay. There were some large snapper caught on light line, and the top catches were (with line weight) Todd Michel (NZ Land Based Club) 9.46kg (10kg line) and 8.6kg (8kg line), John Robbins (Whangarei) 10.46kg (6kg line), Tom Hatfull (Whangarei) 9.86kg (4kg line) and 3.46kg (3kg line), Bob McKenzie (Mercury Bay) and Jim Powell (NZ Land Based) equal 7kg (2kg line) and Rob Clarke (NZ Land Based) 5kg (1kg line).
Top striped marlin anglers were John Griffiths (Bay of Islands) and Glenn Edwards (Whangaroa) each with seven marlin tagged worth 3150 points.
There were some meritorious catches among junior anglers, including two striped marlin tagged by Harrison Bell at Houhora to win champion junior angler. Second equal were John Bell (Houhora) and Mathew Collins from Counties. Another Houhora junior, Sarah Beaufill, won first and third in the shark section with catches of a 50.8kg blue shark on 1kg line and a 78.8kg mako shark on 3kg line while Bailey Beaufill took second place with a mako shark of 55kg on 2kg line.
Heaviest yellowtail caught by a junior was Hannah Hope's 17.96kg kingfish (10kg line) at Whakatane.
On the local scene in Auckland snapper continue to frustrate many anglers, and those using a lot of berley and fresh yellowtails for bait in four metres or at 40m are doing the best, but it has been hard. Big snapper are being caught in Northland harbours like Houhora and Parengarenga in shallow water in the evenings, casting baits or soft baits into a few metres of water. This could also work well in the Whangarei, Waitemata, Manukau and Tauranga Harbours, fishing over high tide at the top of the harbour, at dawn or dusk or into the night.
The prolonged favourable conditions on the west coast have seen a bumper summer for game fishermen, with a lot of marlin caught all the way up the coast. During the Nationals 32 marlin were caught in just one grid area off New Plymouth.
Freshwater
Fly fishing at the Hamurana Stream mouth on Lake Rotorua has been the highlight of the fishing on the Rotorua lakes, with some anglers hooking a dozen fish in a session with the evening producing best. The Waiteti mouth is still the most consistent for brown trout, with some large fish taken late at night. On Lake Rotoiti jigging is still producing fish, but the bite times are spread out and it is not the red hot fishing which sometimes occurs at this time of year. However, the size and quality of the fish is impressive, with another 5.5kg rainbow taken this week. The Grey Ghost is the favoured smelt pattern on the jig rods. Deep trolling on the lakes has been quiet, but harling should pick up this month as temperatures drop.
Bite times
Bite times today are 11am and 11.30pm, and tomorrow at 11.45am. These are based on the moon phase and position, not tides, so apply to the whole country.
Tip of the week
Cutting the head off a freshly caught mackerel, like slimy or yellowtail, allows juices to run out, attracting snapper. When fished as a live bait on the bottom a mackerel will attract snapper, kingfish and John Dory. It can be hooked through the nose or the back, with a small live-bait hook. Too large a hook will slow down the bait making it ineffective.
More fishing action can be found tonight on Rheem Outdoors with Geoff, 5.30pm TV3.