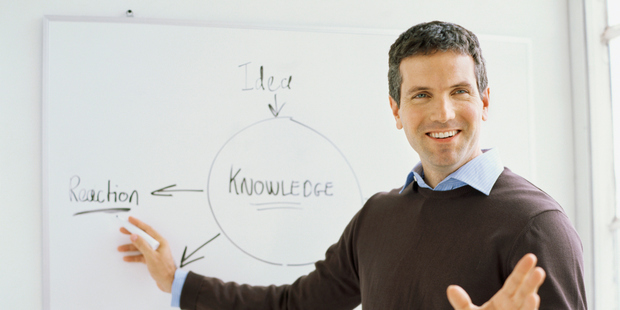 Children are missing out on positive male role models because of a shortage of men wanting to become teachers.
Bay schools have spoken out about their struggle to attract male teachers as local training centres record low numbers registering for courses.
The Bay of Plenty Times has learned of at least one primary school with no men on the teaching staff this year.
Papamoa's Golden Sands has had male teachers before but all 15 this year are women, said principal Mel Taylor.
"I don't really know why. I guess it's potentially an area that some people just aren't interested in."
As a general rule, the percentage of male staff at any school was 10 per cent "at best".
When the two-year-old school began searching for staff, three of about 70 applicants were male.
There were some "wonderful" men coming through teaching college but it was hard to attract males at primary level.
A long-standing public perception of male teachers having "poor intentions" could be one reason, she said.
Latest New Zealand Teachers' Council figures reveal that of more than 100,000 registered teachers with practising certificates nationally just over 20,000 are male. The council could not provide regional data.
Bay of Plenty Polytechnic and University of Waikato teaching courses continued to be dominated by women but three males had enrolled in the polytechnic's Early Childhood Education course for the first time in four years.
Tutor Ngawaiata Sellars said: "It's really cool to have some males enrolled. They bring a different perspective to teaching. They're role models for young boys and male teachers just get what's going on for the boys."
The Early Childhood Council (ECC) estimated that of the 1100 centres it represented, just 2 per cent of staff were male. But Mrs Sellars said men were "just as good" at looking after young children as females.
"There has been a stigma around males about sexual abuse in the classroom but the truth is it's just as much females as well as males. I think that [perception] is changing a bit now though."
The Early Childhood Council is actively campaigning for more male teachers and trying to change the negative stigma attached to the industry.
Council chairman Peter Reynolds says early childhood teaching is the second most gender-biased profession. The first is nuns.
But the University of Waikato and the Bay of Plenty Polytechnic are not actively trying to recruit more male teachers. The university says the problem has been around "forever and a day".
About 180 university students graduate each year with a Bachelor of Teaching qualification, and 44 males have graduated in the past three years.
Associate Dean of Teacher Education Bev Cooper said there were higher percentages of male intakes at secondary school level (about 50 per cent) than primary school level (about 16 per cent).
"Quality teachers are the most important rather than gender. However, it is valuable to have a range of teachers so students may relate to them. Different students relate to different teaching styles and personality," she said.
For more articles from this region, go to Bay of Plenty Times