A timber slat doormat stays looking good for longer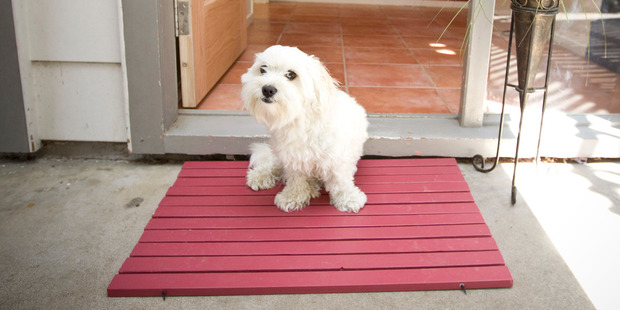 You might only look at a doormat in passing, but you still see it several times a day. Some get tatty quickly and some are useless for scraping the mud off your shoes - a timber slat model does that job and stays looking good for longer.
Step 1 - Measure and mark a series of 40 x 20mm slats using a square as a guide, before cutting to length on the waste side of the line. I cut 11 lengths at 750mm to give me the desired effect.
Step 2 - Remove all sharp edges on the slats, including the ends, with a plane, then finish off with a light sand.
Step 3 - Paint or stain the slats separately.
Step 4 - When the paint is dry, line the slats with the narrow edge facing upwards and together and flush at the ends. Now measure and mark about 100mm in at both ends with the aid of a square and scribe a centre line.
Step 5 - With the slats still lined up together, use a drill bit just large enough to fit the string through.
Drill a hole to the centre of your pencil marks right through to the other side, keeping the drill straight and true.
Step 6 - Take two lengths of string, allowing enough to complete the mat, and feed them through the first holes of the slat and tie off with a granny knot or similar, which will stop the slat from going anywhere.
Step 7 - Tie a tight knot on each string up to the first slat before placing the next slat in place. This creates a gap for debris to fall through. Repeat this process one slat at a time until complete.

Materials
• 40x20mm dressed gauge treated timber
• 3mm nylon string
• Paint/stain
Tools
• Skill saw /mitre saw
• Drill
• 4mm drill bit
• Hand plane
• 120g sandpaper
• Square
• Tape measure
• Pencil
• Paint brush
• Lighter