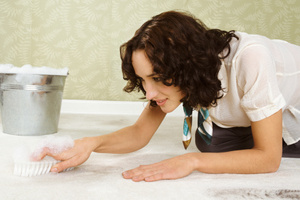 New mums are more likely to suffer from compulsive behaviours, like repeatedly checking an appliance is off or washing their hands, according to a new study.
The research published in The Journal of Reproductive Medicine, found 11 per cent of mothers have obsessive-compulsive symptoms after giving birth. The rate is two to three per cent for the general population.
Obsessive Compulsive Disorder (OCD) is an anxiety disorder that includes unwanted, persistent thoughts or images.
Repetitive behaviours such as rechecking appliances are turned off can help alleviate the anxiety, said Auckland-based registered psychotherapist Blair Schulze.
The disorder is often triggered by stressful or traumatic events, such as childbirth, he said.
Behaviour crossed the line into a disorder when "it starts becoming something that's taking up a good chunk of someone's day and it's very distressing to them,'' said Mr Schulze.
The American study involved 461 women who delivered babies in 2009 and completed mental health surveys two weeks after birth.
Most of the women also answered questions six months later.
The women's biggest obsession was with dirt and germs, The Huffington Post reported.
Other common compulsions associated with OCD include cleaning or tidying rituals, tapping objects, blinking rituals, excessive showering or teeth brushing, praying, or repeating words.
Mr Schulze said OCD was usually a life-long disorder that returned at times of stress, and it was important anyone with symptoms sought professional help.
"Most mothers are going to experience some degree of increased worry and vulnerability because of the profound experience of being responsible for another creature for the first time,'' said assistant professor of maternal and child health at the University of North Carolina, Dr Samantha Meltzer-Brody told the Huffington Post.
She said worrying about germs and dirt can be normal, but spending hours a day cleaning and sterilising may not be.
- APNZ