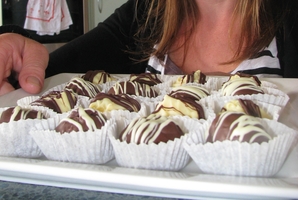 Daring food, outrageous costumes and 10,000 people will descend on Hokitika this weekend for the 24th Wildfoods Festival.
The festival peaked in 2003, when 22,500 people poured through the gates at Cass Square and a further 5000 partied downtown. Numbers were subsequently capped at almost half that.
Organiser Mike Keenan is a little nostalgic for the "buzz'' of those heady days, but says times have changed and numbers have settled around the more manageable 10,000 mark.
''(Ticket sales) have really taken off in the last two weeks,'' Mr Keenan said.
The sun normally shines on Wildfoods, and the forecast again is for sunshine.
The menu is as varied as ever, with the wholesome (wild pork sausages), the indulgent (strawberries and ice-cream), the different (Hungarian bread puffs) and the downright scary (eyeballs).
However, rabbit is off the menu, despite an abundance of them on the West Coast this summer. Despite their best efforts, they could not find a meat inspector who would do rabbit.
Mr Keenan said a tightening of the food rules had seen the biggest changes to the festival since its launch. When Wildfoods started 24 years ago, "there was no such thing as MAF''.
"People could actually go to the mussel bed, or put a line out and catch themselves a shark, and put it on the menu. DOC culled goats. And back in 2003 (when numbers peaked) we didn't have the same liquor attitudes.''
The number of people attending in fancy dress has now become a major part of the festival, like the Rugby Sevens. Reflecting this, organisers have put a $1000 prize up for the best dressed.
There is also entertainment to suit a mixed audience, including two New Zealand's Got Talent finalists, Dudley Fairbass and Evan Sinton.
RNZAF aerobatic stunt team the Red Checkers are back for the first time since 2007, giving festival-goers something exhilarating to crane their necks at.
After a popular Friday night concert, West Coast-Tasman MP Damien O'Connor will officially open the festival at 10am on Saturday, followed by another concert that night.