British author Deborah Moggach returns to the rickety hotel setting that earned her big box-office success, writes Stephen Jewell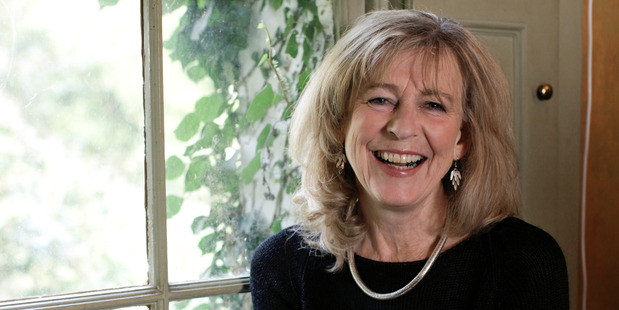 Heartbreak Hotel by Deborah Moggach
(Random House $39.95)
A catchy title is a vital ingredient for any novel, as Deborah Moggach well knows. Based on her 2004 novel These Foolish Things, the film The Best Exotic Marigold Hotel enjoyed so much success at the box office last year that the book is now also known by that name. So it seems Moggach is apparently getting in on the act with the publication of her latest novel, the similarly themed Heartbreak Hotel, although she insists it is simply a coincidence.
"I didn't write it to exploit the other or to ride on its coat-tails," she insists. "But it did strike my mind that they've got a few things in common. They're both set in rackety old hotels that are also rather shabby, and they both share the idea that you can be somebody else in a hotel. They're very liberating places, where you live in a sort of limbo and live out your fantasies in them."
If Moggach sounds wary about The Best Exotic Marigold Hotel's impressive cinematic performance, it's because she has been there before.
In 2005, Steven Spielberg was poised to produce a big-budget epic of her 13th novel, Tulip Fever, that would have starred Jude Law and Keira Knightley, only for it to collapse at the 11th hour when then-Prime Minister Gordon Brown closed a lucrative tax loophole. At one stage it was slated to be helmed by John Madden, the Shakespeare In Love director, who would go on to enjoy much better fortunes with The Best Exotic Marigold Hotel about six years later.
"Tulip Fever was quite famous because it was going to be this huge film and then it wasn't," reflects Moggach. "I'm pleased that Marigold Hotel has done so well, because I'm very fond of it. It tackles a rather important subject, so I'm rather glad people have had another bite of the book."
A seasoned scriptwriter whose credits include Joe Wright's acclaimed 2005 version of Pride And Prejudice, Moggach wrote the first draft of the screenplay before being replaced by Ol Parker. "They dumped me off it and got somebody else," she says. "But the film is very different to the book, so people can go back to it and have a whole different experience."
With a stellar cast that included Judi Dench, Bill Nighy and Maggie Smith, both book and film centred around a group of British pensioners awarded a new lease on life after relocating to a run-down Indian hotel. "It's been a huge pleasure for people, particularly because it doesn't treat getting older as a journey into dementia, senility, heart attacks and death," says Moggach. "That's all in there but that's just due to the fact that those kinds of things tend to happen to people who are older. If you're old, you can still fall in love and have new experiences since age doesn't stop you doing those things."
The film has been praised for appealing to the so-called "grey-pound market", which has seen the release of a slew of like-minded movies such as Quartet and Song For Marion, also aimed at older audiences.
"For all their high salaries and expertise, all those Hollywood executives hadn't twigged to the fact that there's a large audience out there for stories that reflect their lives and aren't aimed at teenagers or 30-year-olds," says Moggach. "It's been a really wonderful experience with The Best Exotic Marigold Hotel, because it has made people happy. We're living in really tough and rather dark times right now, so it's a huge joy to go to a cinema and see it packed with people roaring with laughter."
The Best Exotic Marigold Hotel was set in Jaipur, but the characters in Heartbreak Hotel don't venture so far afield. It begins with the incorrigible Russell "Buffy" Buffery inheriting a run-down bed and breakfast in rural Wales. "In one it pours with rain and the other one has got elephants," says Moggach wryly. "My boyfriend is based in Wales, so I've been going down to this little town where he lives. I'm an old hippie at heart, so I feel at home there, just like I feel at home in India, actually. A lot of people went [to Wales] in the 70s, as it was where you'd end up on a tank of petrol if you drove west to get away from London. They went there, started smallholdings and set up shops and led rather alternative lifestyles, making cheese and taking drugs."
Based loosely on her late partner, Times cartoonist Mel Calman, Buffy first appeared in Moggach's 1993 novel The Ex-Wives. "Mel was very, very funny but he wasn't fat or a boozer like Buffy," she recalls. "He was the sort of person women loved because he liked nothing better than sitting down with a plate of cakes and a pot of tea and just nattering. He rather inspired The Ex-Wives and some of his jokes were in that book. I'm very fond of Buffy for that reason. I wanted to give him a new lease of life because I thought he deserved it."
In his inimitable style, Buffy stumbles on to a winner when he establishes his "Courses for Divorces", practical lessons for newly single individuals, some of which Moggach has detailed for real on her website.
"At the end of a relationship it's always like a bereavement and it's terribly upsetting for both sides, whoever instigated it," she says. "What makes it worse is that the sink's blocked and you can't unblock it, or there's a leak in the ceiling or some bills come in and you don't understand them. But the other person isn't there any more to help you or to just do it. We all take on certain tasks in a relationship so to lose that as well as the person is like a double blow."
• Heartbreak Hotel (Random House $39.95) is out now.