Auckland Art Gallery director Chris Saines leaves next week for Queensland after 17 years of working towards the gallery's expansion and rejuvenation. But he'll be back one day, he tells Linda Herrick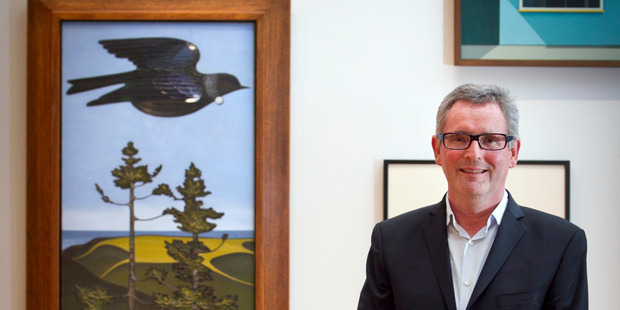 Wanted: a new "world-class director" for the Auckland Art Gallery. You will, according to the job prospectus, be the gallery's "face and voice". You will have "considerable experience". You will "be highly regarded in the art community". You will "demonstrate a flair for public speaking and offer sophisticated influencing, advocacy and negotiation skills".
You will have awfully big shoes to fill. Outgoing director Chris Saines, an Australian, leaves the gallery next Friday to take up the directorship of Queensland Art Gallery and the Gallery of Modern Art in Brisbane, where he worked for 11 years before coming to Auckland. The Australian newspaper has heralded his return as "QAG welcomes its prodigal son".
Saines, 58, leaves a rich and productive legacy from his 17-year tenure at the Auckland gallery, during which time he initiated and presided over the gallery's $121 million transformation from a cramped labyrinth of dingy, inadequate, hessian-lined rooms into the sleek, much-expanded beauty that opened 18 months ago and has won 22 architectural awards, including the International Award for Architectural Excellence from the Royal Institute of British Architects - the first time the award has been given to a building in New Zealand.
Saines and his team have also set up the Walters Prize for contemporary art and the Auckland Triennial, both significant steps in supporting local artists and vitalising New Zealand's presence in the international scene.
He has nurtured relationships with funding supporters the Chartwell Trust and the Thanksgiving Foundation. He is a charismatic public speaker.
Philanthropist John Gow, of Connells Bay Sculpture Park on Waiheke Island, says, "His speaking ability is second to none and most of us dread having to speak after him at functions."
In 2009, when American philanthropist billionaires Josie and Julian Robertson ventured the notion that they might be interested in offering the gallery a "promised gift" of 15 major European art works worth $115 million, it was Saines they negotiated with, Saines they trusted, Saines they liked.
"I am Chris' greatest admirer," says Robertson on the phone from Kauri Cliffs, the luxury resort he owns in Northland, where he spends part of each year.
"I guess you could use the old American saying that money is where the mouth is - but it's not money in this instance, but pictures. Those pictures were given to Chris and not anyone else.
"When the gallery reopened I was thrilled by the quality of it," he adds. "New Zealand is well-known for its natural beauty, but its architectural beauties are few and far between, and this is an architectural beauty of the first degree."
Some have said Saines' departure would become a certainty when it was revealed in May that Regional Facilities Auckland had "disestablished" the financial and operational aspects of his job and invited him to apply for a new role as cultural director, prompting a "revolt" by patrons the Chartwell Trust and resulting in what one commentator described as Saines' "reverse engineering of the proposal".
But long-time gallery patron and foundation member Jenny Gibbs is adamant that "there was never a move to disestablish his position ... never".
"Chris always knew his job was secure," she says. "It was to try to get a deputy director. We should have given him a deputy all through the building process, to take some of the administrative and financial burden off him."
Gibbs points out that Saines' job was made particularly trying before the restoration could start when claims, then appeals, were lodged against the project in the Environment Court, a process that took three years to settle, with Saines in court testifying every day of the hearings. The delays added an extra $10 million to the renovation costs.
"Some of us on the foundation who were trying to do the fundraising would feel pretty ground down by it all, but Chris was always optimistic, always," says Gibbs.
"He'd say, this is a great opportunity to rethink and retweak. He never got down, which is a great quality in a leader."
Saines himself says he grew to hate a word used to describe him when he was battling through the court procedures.
"Resilient," he laughs. "But those years were certainly draining. There were three years of near-complete uncertainty about whether we would go ahead. There was so much at stake and to have to become, in effect, an expert witness rather than a gallery director was a very complicated transition.
"It was demanding, it was robust and very strong challenges came back to us and that's as it should be. Ideas are being tested.
"But beyond all of that, since my earliest memory I have been described as someone who is optimistic, always interested in looking forward and finding the good in something."
Looking back, publically at least, is rare for Saines, but ask him about his childhood and he has to fight against "getting all too sentimental". The youngest of three boys, he grew up on a farm on the foothills of Mt Buffalo near the small town of Myrtleford in northeast Victoria. "I look back now and think what an incredibly fortunate childhood I had. I may
have grown up on a farm, but I had so many advantages.
"When you live in an open space rather than in a city you have a wonderful sense of freedom, and I was one of those kids who was more interested in writing, poetry and reading than I was in sport. That was fairly unusual in terms of the boys at the school I attended."
Saines recalls he had "very little exposure" to visual arts until his school started visiting the National Gallery of Victoria in Melbourne in the 1960s.
"The first exhibition I can vividly recall seeing was Sidney Nolan's Gallipoli series about young Australians on the battlefield and in the waters off Anzac Cove, swimming and playing, then tied down in the trenches as bullets screamed overhead.
"It was so compelling and I can recall going back to school and being asked to write an essay about that exhibition. Here was something that really touched a chord with me."
Saines began attending art history classes at the Catholic school down the road because they didn't teach art history at the state school. Then an American teacher arrived at his school who "really excited in me this sense of how art could be so much more than I had ever imagined it to be. She was so generous in wanting to extend our creative horizons
and it really opened something up for me that I have never forgotten."
Saines was on his path. The first person in his family to enter tertiary education, he headed to Melbourne, where he studied art history at the newly established La Trobe University for four years under former Auckland Art Gallery director Peter Tomory, with the idea that he might end up teaching.
His parents were quite apprehensive about their son's elevation to university, he recalls. "I think the concern of every country parent of that time was that you'd grow your hair long and turn into a pot-smoking radical and that they'd lose you somehow.
"There was a natural anxiety about university radicalising you - this was the 60s, the age of the marches against the Vietnam War - but they were incredibly supportive. I remember saying to them years later that everyone in our family was given the opportunity to succeed."
Tomory, he says, "had a very strong influence on me".
"When three of us were entered into his honours course, he brought us into his office and read the riot act and said he wasn't prepared to spend the time that would be needed for us to take our studies forward into post-grad unless he knew we would take our studies forward into careers in the visual arts as teachers, art historians, curators or people working in the art museum sector, and the three of us did exactly that."
The turning point came when Tomory invited the three students back to his home to open boxes of prints he owned dating back to the 15th and 16th centuries.
"They were amazing. This was quite different from going into the print room at an art museum, and it was then," he almost shouts, "I knew I wanted to work with art."
As soon as Saines finished university, he boarded a plane for the first time and went to those places in Europe [that Tomory had discussed].
"I had never gone outside Australia until the week I left university. A group of us went on a six-week art history tour through Greece, Italy, Germany, France and Britain. It was the most remarkable way to end an art education."
Saines stayed on in Britain for four years, "working in a whole raft of different jobs", none involved in art, "but it meant every weekend I could be immersing myself in galleries all over the country and through Europe looking at art". He describes that period as "four years of sitting in a darkened room".
Back in Australia, Saines' first art-world post was at the McClelland Gallery in Victoria as curator, then acting director, before moving to Brisbane to work in curating and educational positions.
When he joined the Auckland Art Gallery he was just 41. The gallery was in a moribund state, with visitor numbers slumping for the year 1998-99 to 148,048, down by about 100,000. Visitor revenue plunged the same year to $32,000.
When the gallery reopened in September 2011, visitors for the first 12 months reached a record of 677,000 and it has remained steady ever since, what he calls "a real game change. It's all there now".
Saines says working at the Auckland gallery presented challenges, such as learning Maori protocol and powhiri. He acknowledges the support of the gallery's Maori advisory group, Haerewa, especially chair Elizabeth Ellis and kaumatua Arnold Wilson, who died last year but whose work is carved into kauri-clad columns in the new entry.
"One of the greatest privileges of my time at the gallery was having Arnold beside me," he says. "The warmth of the embrace I was given by the Haerewa meant that was a very easy transition for me to make. Looking back, I don't think I spent more than a month here defending the fact I was Australian and now that I am set to leave, I feel like a New Zealander.
"I really feel like this country is a very important part of me, so much so, I hope to return here one day to live."
Saines and his wife, Amanda, who were married 11 years ago, and their daughters, Poppy, 8, and Georgia, 5 (the couple lost their first child, Toby, before he was born in 2004), are renovating their Auckland house, which they will rent out until their return.
"Part of the reason I feel such mixed emotion about leaving Auckland is that we are leaving Amanda's side of the family," says Saines.
"The loss of my parents in recent years means this has been a very important place for me in terms of the support you get from your family."
Saines was terribly sad his parents died before they could see the completion of the gallery project their son led so energetically.
"I wanted so much for them to be here when this building opened, I really did," he says slowly. "They went through all of those challenges we were confronted by in raising this building. I was endlessly travelling home and recounting whatever the tribulation of the hour was and they were so supportive and encouraging. I do have a real sense of regret that they never got to see it ..."
Saines leaves the gallery in good heart, the morale of its staff never better.
"People talk about the contribution you've made, but the difficulty is that it wasn't me," he says of the frenetic months before the gallery reopened.
"It was me working with others, an extraordinarily committed foundation who worked day and night and the staff who did more than they've ever been asked to do before in the nine weeks before we re-opened ... one person doesn't do all this."