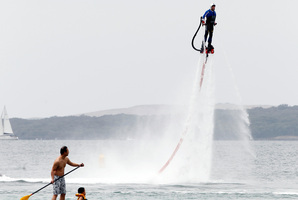 It's not quite James Bond, but a new waterborne jet pack caused a stir at the Snapper Summer Festival at Takapuna Beach yesterday.
The Flyboard is a water jet-powered machine that allows propulsion underwater and in the air.
Auckland band Sola Rosa headlined the festival's entertainment last night and the festival was continuing today.
Anyone interested in picking up a Flyboard can expect to pay around $14,000.