Taxi credit-card surcharges range from 0 to 10 per cent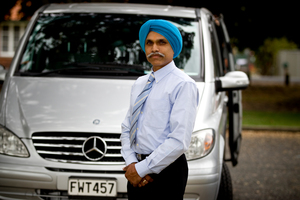 Taxi companies are imposing some of the country's highest credit card surcharges. Although it is possible to take a taxi and pay by credit card without a surcharge in the nation's biggest city, it is a rarity and some companies are charging a whopping 10 per cent.
The Herald on Sunday surveyed all Auckland's taxi companies after dozens of emails from readers after the start of our campaign last week to name and shame those imposing high credit card surcharges.
Of the more than 30 firms, only two did not add a surcharge - TaxC Service, in Favona, and Nor-West Taxis, in Kumeu.
The Alert Group charges 10 per cent on both credit card and eftpos transactions and many other players charge a flat fee that would equate to much more than 10 per cent on a $30 fare. Alert covers taxi firms such as North Harbour Taxis, Maxitaxis, Regency Cabs and Kiwi Cabs.
Nor-West Taxis owner Paul Boler has never charged anyone to use a credit card and said the impact was minimal. "Ten per cent seems huge. I don't think credit card companies charge that."
Retailers are typically charged 1.5 per cent to 2 per cent for every credit-card transaction. Mobile credit card facilities can be slightly more expensive.
The Commerce Commission is surveying more than 3000 businesses to see if surcharges are being used fairly. They have been allowed since 2009, when the commission struck an agreement with credit-card companies Visa and MasterCard. That deal allowed retailers to recover banks' merchant fees by charging extra on customers' credit card payments.
The agreement was intended to enable retailers to charge customers less for goods and services. But commentators say that hasn't happened and say some companies use them to feather their nests.
Pramen Singh, who runs TaxC Service, with just two full-time drivers, said: "I'm not here to rip people off."
A Commerce Commission spokeswoman would not speculate on whether the taxi surcharges were excessive but said any explanation about the reason for the charges must not be misleading.
Alert Group chief executive Tim Simpkins did not want to comment.

• Readers have been contacting us with names of companies charging excessive surcharges. We've compiled a list on the Herald on Sunday Facebook page. To add to the list, comment on Facebook or email susan.edmunds@heraldonsunday.co.nz.